Tooth pain and throbbing can be stopped. The most common causes of tooth pain or throbbing are root sensitivity, cavities, trauma, gum disease and pain from sinus problems. Specific signs and symptoms associated with these conditions help determine the cause of the pain and throbbing. Your dentist will ask you a series of questions, perform some tests and evaluate x-rays to pinpoint the cause of your discomfort and the best treatment options.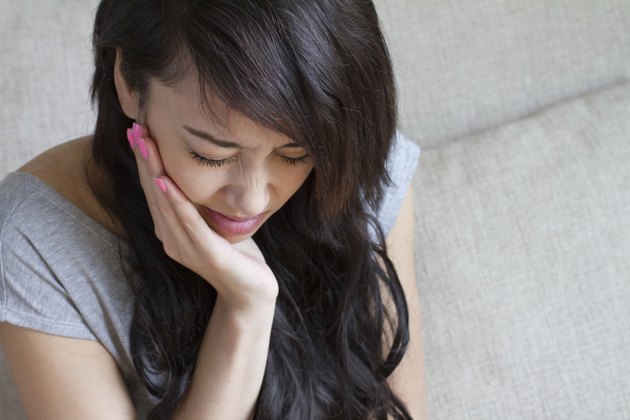 Cavities and Trauma
Small cavities are occasionally sensitive to sweets, hot and cold. The sensitivity usually disappears once a filling is placed. Large cavities or a hit to the tooth and/or jaws can cause nerve damage inside the tooth. This pain is more constant and severe and may be referred to more as a throbbing pain. The most common signs of nerve damage are pain when biting, chewing, drinking something hot or cold, and swelling of the face or gums.
Your dentist will determine if the nerve in the tooth is infected by performing a test, such as tapping on the tooth, applying pressure to the tooth, temperature testing or x-ray examination. If the tooth is infected, the dentist may prescribe antibiotics and painkillers for short-term pain relief. Long-term pain relief requires a root canal or extraction.
Root Sensitivity
Teeth with exposed root surfaces are usually sensitive to 1 or more of the following: touch, cold air, acidic foods, sticky foods, and hot or cold foods or beverages. The root surface contains several microscopic pores that allow sensations to reach the nerves inside the tooth, causing sensitivity.
Desensitizing toothpaste can help with this type of sensitivity by blocking up these pores to prevent the transmission of sensation from the tooth surface to the nerve. It may take 2 to 3 weeks of using the toothpaste before you notice a reduction in sensitivity.
Some toothpastes are more abrasive and may cause your teeth to be more sensitive. These usually have labels that have words such as whitening, brightening, smoker's toothpaste or tartar control. Ask your dentist to recommend a toothpaste that's right for you.
Gum Disease
Gum disease can lead to loose teeth, swollen gums, pus, pain and sensitivity to pressure. Depending on the extent of the gum disease, your dentist may be refer you to a gum specialist for treatment. Treatment options include deep cleaning, gum surgery, antibiotics and bone surgery.
Sinus Problems
People with sinus problems often have pain or throbbing, especially in the upper teeth because the sinuses and tooth roots are so close. This cause of tooth pain is sometimes hard to diagnose. If the dentist has performed a through examination and cannot determine any other likely cause of the pain or throbbing coming from the teeth, you may need to visit a medical doctor.
Is This an Emergency?
If you are experiencing serious medical symptoms, seek emergency treatment immediately.