Trazodone (Desyrel, Oleptro) is an antidepressant drug belonging to a class of medications known as serotonin antagonist and reuptake inhibitors (SARIs). It acts primarily by increasing the amount of serotonin in the brain. Serotonin is a chemical with various effects, including the regulation of mood.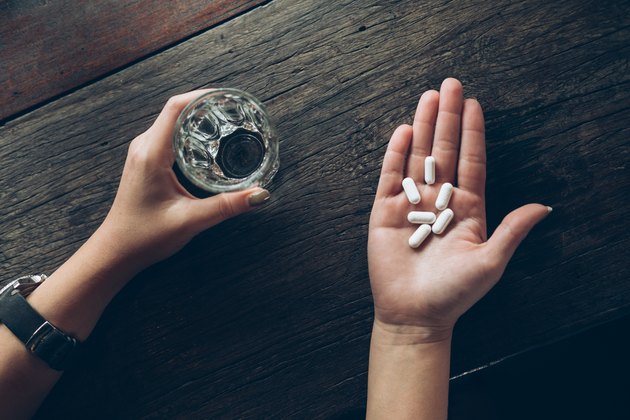 Trazodone is approved by the Food and Drug Administration (FDA) for use in major depressive disorder. It is sometimes prescribed "off-label" for other purposes, such as insomnia or anxiety. Trazodone is a generally safe medication, but it has several potential side effects that can be dangerous.
Blood Pressure and Heart Effects
Trazodone can lead to a drop in blood pressure. This is particularly likely when a person rises from a lying or sitting position, a phenomenon called orthostatic hypotension. It can lead to dizziness and even fainting. Orthostatic hypotension is more common in older people, especially those with heart disease, and in people taking blood pressure medications, according to an article in StatPearls.
A fast or irregular heart beat may also occur with trazodone. This is most common in people with heart disease or those who have a specific abnormality called prolonged QT interval on their electrocardiogram. The heart beat abnormalities may be felt as palpitations in the chest and may lead to dizziness, chest pain, shortness of breath or fainting. Rarely, death may occur.
Suicidal Thoughts or Behavior
The FDA has issued a black box warning indicating that any antidepressant may increase the risk of suicidal thoughts and behaviors in children and young adults up to 24 years old. Trazodone does not appear to increase the risk more than other antidepressants. Of note, trazodone is not approved by the FDA for use in children under the age of 18 years.
Serotonin Syndrome
Serotonin syndrome is a potentially life-threatening condition caused by excessively high serotonin levels in the body. It can produce nausea, vomiting, diarrhea, fever, a fast heart beat, high or low blood pressure, agitation, confusion, hallucinations, tremors and incoordination. When severe, seizures, coma or death may occur.
Although rare, serotonin syndrome is more common when trazodone is combined with other medications that increase serotonin levels. These include tricyclic antidepressants, fentanyl, tramadol, lithium, amphetamines, and St. John's Wort. Monoamine oxidase inhibitors (MAOIs), such as phenelzine (Nardil) and isocarboxazid (Marplan), interfere with the breakdown of trazodone. This increases the amount of trazodone in the body, which increases the likelihood of serotonin syndrome.
Bleeding
Trazodone may increase the possibility of bleeding. This can lead to nosebleeds or bleeding in the digestive tract or under the skin. Bleeding from the digestive tract may cause vomiting of blood or material that looks like coffee grounds. The stools may appear blood-tinged or similar to tar. Bleeding under the skin produces bruises or small red or purple spots called petechiae.
According to the FDA-approved prescribing information, the risk of bleeding may be higher when trazodone is combined with other medications that predispose to bleeding, such as nonsteroidal anti-inflammatory drugs, warfarin and other medications that interfere with the ability of the blood to form clots.
Prolonged Erections
Men who take trazodone may experience prolonged penile erections. These erections generally occur spontaneously and are not due to sexual stimulation. They are usually, but not always, painful.
When an erection persists more than 6 hours, the condition is called priapism. Permanent damage can occur when an erection lasts longer than this period of time. Priapism is more common in men with a condition predisposing to prolonged erections, such as sickle cell disease, leukemia and certain disorders of the penis.
Discontinuation Symptoms
When trazodone is taken for a prolonged time, abruptly discontinuing it could lead to a type of withdrawal reaction. This is the body's natural response to falling serotonin levels. Discontinuation symptoms may include dizziness, nausea, sweating, tremors, headaches, agitation, confusion, electric shock sensations, ringing in the ears, difficulty sleeping and seizures. Slowly reducing the dose instead of suddenly stopping trazodone will help avoid these symptoms.
Other Dangerous Effects
Like all medications, trazodone may trigger an allergic reaction. Rarely, a severe allergic reaction can occur, producing widespread hives or red skin, swelling of the face, mouth and throat, shortness of breath, dizziness or fainting.
Trazodone sometimes causes sodium levels in the blood to fall, producing hyponatremia. This can lead to headaches, confusion and weakness. Seizures, coma and death can occur when sodium levels are very low. Hyponatremia is most likely in people who are older or taking water pills.
Precautions and Warnings
If you take MAOIs, they should be discontinued before starting trazodone because of the possibility of serotonin syndrome. The FDA-approved prescribing information states that trazodone should not be started until you have been off all MAOIs for at least 14 days.
Trazodone may produce drowsiness and slow your ability to think or perform physical activities. Do not operate machinery, drive or do any other possibly dangerous activities until you are sure that trazodone will not cause these effects.
Contact your doctor if you feel dizzy when standing or notice heart palpitations while taking trazodone. Seek immediate medical attention if you feel dizzy while sitting or lying down, if you faint, if your heart palpitations do not go away in a few minutes or if you have bleeding from the nose or digestive tract. Also seek immediate medical care if have any suicidal thoughts or behavior or if you have symptoms of serotonin syndrome, a severe allergic reaction or hyponatremia. The FDA recommends immediate medical care if an erection lasts longer than 4 hours.
Reviewed and revised by Mary D. Daley, M.D.