Non-perishable foods have a long shelf life and don't require refrigeration. Food drives for homeless shelters or disaster response efforts primarily request non-perishable food items. If you are stocking your own emergency preparedness kit, include a variety of non-perishable food items to keep your family fed during a disaster.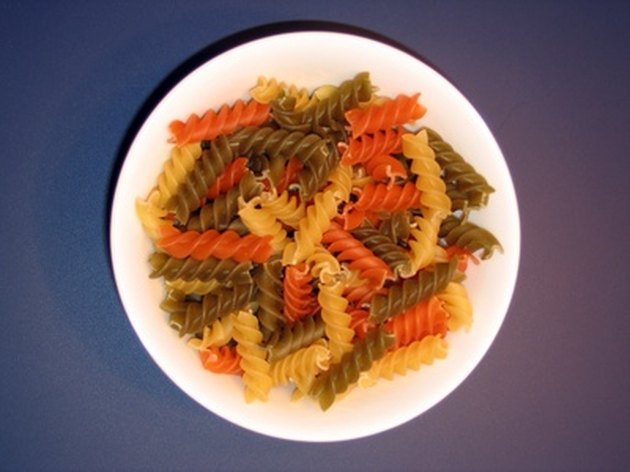 Canned Goods
Even meats such as fish, chicken, beef or deviled ham come in cans. Vegetables are commonly found in cans; choose low-sodium or no-salt-added varieties for health reasons and to minimize the need for drinking water, which might be limited in an emergency. Canned fruits are also common, and fruit preserved in its own juice is lower in sugar than syrupy fruits. Canned soup can make a stand-alone meal, especially if the soup contains a high proportion of vegetables and meats.
Dry Goods
Most dry goods are non-perishable, although some might lose their texture or flavor over time. Pasta, oatmeal and rice have a long shelf life and make filling meals when prepared. Boxed mixes of soup, pasta and rice add flavor to standard non-perishable dry goods. For an emergency kit, include ready-to-eat dry foods such as breakfast cereals.
Dehydrated Foods
Campers and survivalists often bring dehydrated foods, originally developed for the military, on their trips. Also called MREs, or "meals ready to eat," the pouches contain fully-cooked food you can eat as-is or warm and rehydrate with boiling water. Dehydrated foods work well in emergency kits because they are compact and can be stored for many years.
Other Foods
Non-perishable foods also include those that do not require refrigeration after opening, such as peanut butter. Individual serving sizes of some foods, such as juice boxes, also might qualify as a non-perishable food if you fully consumed them before refrigeration would be required. Most condiments such as ketchup, mustard and soy sauce are non-perishable. Bottled water, of course, is non-perishable and is an important part of any emergency preparedness kit.
Is This an Emergency?
If you are experiencing serious medical symptoms, seek emergency treatment immediately.