With more than 30 million Americans suffering from congestion, decongestants are a popular over-the-counter medication, according to the Centers for Disease Control and Prevention. Pseudoephedrine, or Sudafed, and phenylephrine, or Sudafed PE, are the two most common oral decongestants available OTC. Pseudoephedrine is available behind the pharmacist's counter and phenylephrine is available on store shelves. These medications temporarily decrease inflammation by shrinking blood vessels. Use decongestants under the direction of a physician and be aware of the possible effects they can have.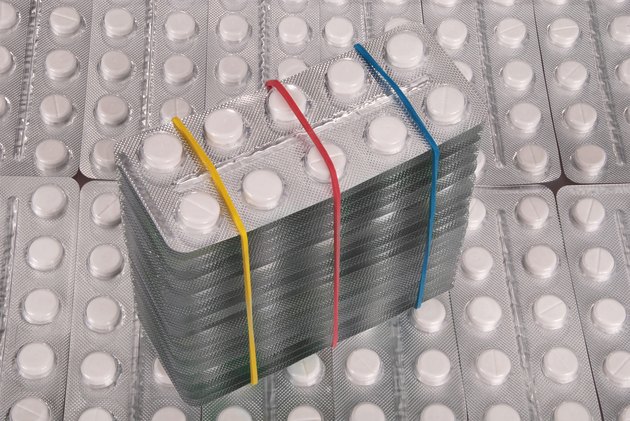 Reduce Blood Flow
Decongestants affect blood vessels by shrinking them, which reduces blood flow, causing the inflammation to subside temporarily. The sinus cavity is made of various blood vessels that swell when irritated by a virus, allergies or irritants, causing congestion. Most congestion is the result of inflamed sinuses that trap mucus in the sinus cavity. By restricting blood flow, the sinuses shrink, allowing the user to breathe and drain nasal discharge more effectively.
Excitability
Decongestants mimic adrenaline, a natural decongestant, which results in irritability, excitability, nervousness and sleeplessness. A person with high blood pressure, heart disease, diabetes or a thyroid disorder should not take decongestants without a doctor's recommendation. If taking decongestants causes sleeplessness, the user should discontinue use during the night hours.
Heart Rate Increase/Blood Pressure
Decongestants can increase a person's heart rate, which can lead to further complications if the user has pre-existing conditions. An increased heart rate results in higher blood pressure. Decongestants should not be taken by people suffering from high blood pressure. Contact a doctor if you experience an increased heart rate, pounding in the chest or an uneven heart rate.
Severe Effects
Severe effects of taking a decongestant are abnormal behavior, lightheadedness, extreme dizziness or insomnia, shaking, numbness in the limbs and urinating less than normal. These severe effects need to be evaluated by a physician immediately. A patient should stop taking the decongestant and inform the doctor of what drug was taken and the longevity of taking it.
Drug Interactions
Decongestants can interact with other drugs, such as antidepressants, diet pills, blood pressure medications, migraine medications, diabetes medications and monoamine oxidase inhibitors. All other medications need to be disclosed to the doctor before taking a decongestant. Decongestants can interact negatively with other OTC medications containing decongestants. Read the labels of the different medications being taken to avoid an overdose.