Amlodipine besylate (Norvasc) is a prescription medication used for the treatment of high blood pressure and coronary artery diseases. It also relieves chest pain, or angina, and restores blood flow in coronary arteries. As with any treatment, you might experience side effects when taking this drug. The most common side effects of the 5 mg dose include dizziness, edema, flushing and heart palpitations. Other side effects are common across all doses of amlodipine besylate.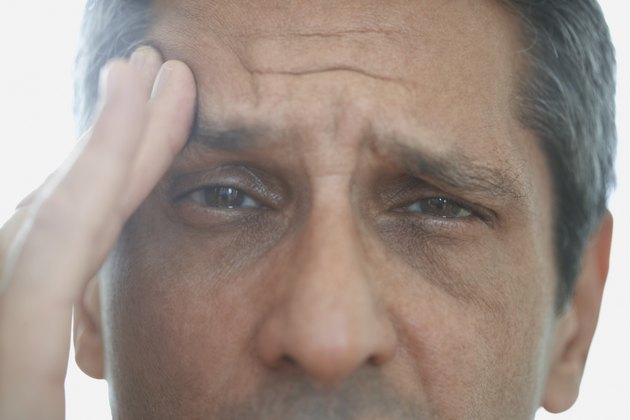 Dizziness and Edema
Amlodipine besylate causes vasodilation, or dilation of the blood vessels. The increased blood flow to the arms and legs can lead to side effects. The most common side effect with the 5 mg dose is dizziness. You may feel dizzy or faint upon standing up quickly after sitting or lying down. According to the Norvasc prescribing information as revised in January 2013, about 3 percent of people taking this dose report dizziness. Equally common with the 5 mg dose is swelling, called edema, due to excess collection of fluid. Edema usually is peripheral, or most noticeable in the legs and ankles.
Flushing and Palpitations
With the 5 mg dose of amlodipine besylate, vasodilation can cause your face to look flushed, feel hot or both. Flushing is more common in women than in men. You may notice a more forceful heartbeat occasionally, or the heartbeat may feel irregular. These are called palpitations. Palpitations are about twice as common with the 5 mg dose of amlodipine besylate compared with the 2.5 mg dose, according to the Norvasc prescribing information as revised in January 2013. However, they are reported much less often among people taking the 5 mg dose than in those who take the 10 mg dose.
Other Side Effects
Fatigue and sleepiness are common side effects of amlodipine besylate regardless of the dose taken. Gastrointestinal problems such as indigestion, nausea, abdominal pain and diarrhea also have been described. Some studies suggest that amlodipine besylate may reduce gastrointestinal tract motility, which may lead to constipation in a small subset of people. In general, gastrointestinal and other side effects are well tolerated, and most of them are mild or moderate in severity.
When to Seek Medical Care
Although swelling of the extremities and flushing are common side effects of the 5 mg dose of amlodipine besylate, you should contact your doctor if either of these becomes severe. All cases of faster than normal, slow, or irregular heartbeats should be reported to your doctor. Chest pain that worsens upon beginning amlodipine besylate should also be discussed. Fatigue, on its own or together with other side effects such as dizziness, may impair alertness and increase the risk of accidents. If you are excessively sleepy while taking 5 mg of amlodipine besylate, your doctor should be informed.