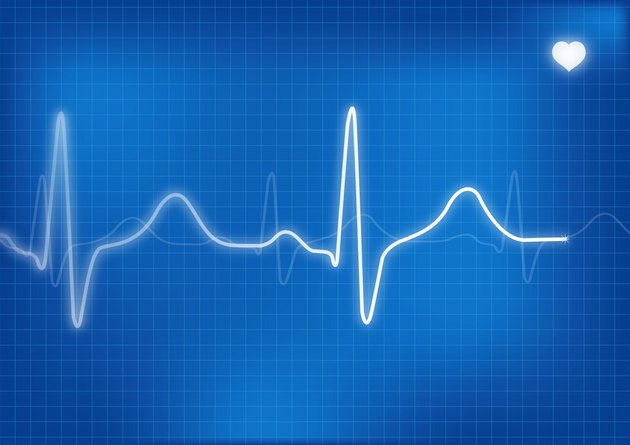 Cocaine
Cocaine is a stimulant drug that can be taken orally or by way of injection into a vein. Cocaine is a popular street drug, but the National Institute on Drug Abuse reports that it's also used in medical facilities as a local anesthetic. Cocaine is most often used as a white powder, which is snorted or injected, or as "crack," which is cocaine that has been heated and now forms a rock-like, smokable substance. Regardless of the manner in which cocaine enters the body, its effects can be deadly.
The Heart
Cocaine has been found to have irreversible and fatal consequences on the heart. According to a study in the 2009 issue of the American Journal of Cardiovascular Drugs, cocaine is the main cause of drug deaths in the U.S., and most of these deaths are related to cardiac symptoms the drug produces. This study shows that the actions cocaine has on the heart include speeding the progression of heart disease, causing arrhythmias or irregular heartbeats, and heart failure or sudden death. Cocaine affects heart disease by causing constriction of the arteries. It causes irregular heartbeats by blocking the channels that allow potassium--a necessary mineral for heart rhythm--to cross cell membranes, and it can cause sudden death by raising the risk of developing blood clots that cause a heart attack or stroke.
The Brain
Cocaine use also has altering affects on the brain. The National Institute on Drug Abuse reports that whether cocaine is smoked or snorted, it reaches the brain quickly and is highly concentrated in certain areas. When a person smokes or snorts cocaine, it travels quickly to the brain. Although it reaches all areas of the brain, it concentrates in some specific areas. One of these areas is called the "reward system" part of the brain. Cocaine stimulates this area, making the user feel so good that he wants more. It's cocaine's effect on this area of the brain that makes the addiction so hard to break. A report from Harvard University shows that cocaine also affects brain function by slowing blood flow. This particularly affects the areas of the brain that control memory, attention span and learning ability. The constricting of the blood vessels, which causes the slow blood flow, lasts even days after the last cocaine use.
Cocaine gives the user a false feeling of euphoria, due to the fact that it's stimulating certain areas of the brain. Unfortunately, this effect can be enough to keep the user addicted, regardless of the effect it's having on other areas of the brain and heart.