The spring generated while jumping on a trampoline can give you the feeling of soaring through the air. If you've ever watched children jumping on a trampoline, you know how much laughter results from the experience. It's almost like witnessing pure joy. There's no reason why you can't relive the childhood activity as an adult, and the added benefit of burning calories can actually help lead to weight loss. Weight loss results when you burn more calories than you take in, so by adding trampolining to your exercise routine you can burn more calories and contribute to an overall caloric deficit.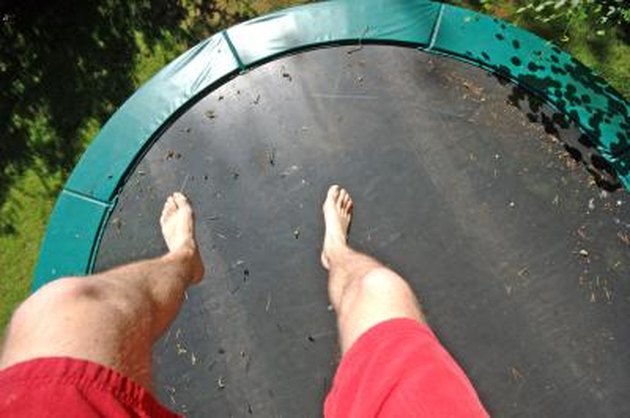 Step 1
Work with an exercise specialist to determine how many calories you should burn while performing exercise each day. The American College of Sports Medicine recommends at least 30 minutes of physical activity each day, but depending on your personal weight loss goals, you may need more than that.
Step 2
Aim to incorporate trampolining into your activity schedule, but add it as a fun activity to burn extra calories, rather than your primary calorie-burning source. According to Discovery Health, a 150-pound individual who jumps on a trampoline for 30 minutes will burn roughly 119 calories. Compared to walking at a moderate pace, which burns roughly 170 calories, or jogging, which burns roughly 238 calories, trampoline jumping has a significantly lower calorie burn.
Step 3
Track your exercise routine in order to stay on track. Healthy weight loss results when you burn 3,500 to 7,000 more calories each week than you consume, an equivalent to one to two pounds of weight loss each week. If you want to up your calorie burn, add additional trampoline time to your schedule.
Step 4
Determine what type of trampoline you will use. Mini-trampolines make transportation easy, and you can also rent DVDs that take you through workout programs. This helps take the guesswork out of your routine. If you prefer the larger, backyard trampolines, make sure you choose a time when your workout won't be interrupted by other participants.
Step 5
Add jogging to your trampoline time. According to Discovery Health, jogging on a trampoline burns a higher rate of calories than simply jumping. You don't need to jog the whole time, but interspersing your jumping routine with steady jogging will only bring you closer to your calorie burning goals and, by default, your weight loss goals as well.
Step 6
Jump smart. Even though trampolining doesn't burn as many calories as jogging, that doesn't mean it's easy. You may find your legs becoming tired or your knees buckling after just a few minutes. Like any exercise, there's a learning curve. If you can only jump for five minutes the first few times out, that's okay. Work your way up gradually in order to prevent injury.
Tip
If you use a backyard trampoline, put a safety net around the edges in order to help prevent falls. Check with your doctor before starting a trampoline program. He may have concerns about the stress that jumping puts on the joints.
Warning
Trampolines are unstable surfaces, and if you aren't used to jumping on them, you could be susceptible to ankle, knee or other injuries. Proceed cautiously.