Delta Airlines states that each person has small pockets of air located throughout the sinus cavity. If those pockets become inflamed from a sinus infection it can lead to complications while flying. Flying with a sinus infection is not recommended by MedlinePlus and should be avoiding if possible. Talk with a doctor before flying with a sinus infection for appropriate treatments and preventative measures.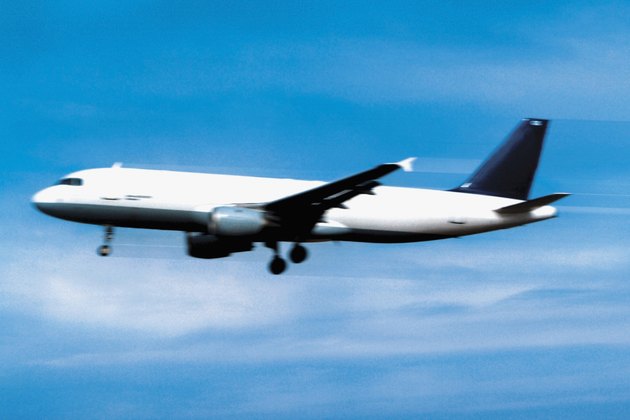 Definition
MayoClnic.com defines a sinus infection as a condition where the sinus cavities become inflamed and irritated, from bacteria or a virus. The swollen cavities block normal air flow and drainage, leading to an accumulation of mucus throughout the head. The excessive mucus can cause headaches, earaches and toothaches. A sinus infection needs to be evaluated and confirmed by a medical professional.
Concern
According to Delta Airlines, flying with a sinus infection could lead to ear and sinus obstruction. Obstruction combined with excessive, ever-changing cabin pressure could cause pain, bleeding, worsening of the infection or rupture of the eardrum. Take-off and descent present the most challenging times for someone suffering from a sinus infection.
Treatment
Saline spray will help moisten, cleanse and loosen any mucus throughout the sinus cavity. Decongestants are used to reduce inflammation in the sinuses, allowing normal airflow and nasal drainage. Decongestants also reduce pressure in the head that causes sinus headaches. Nasal decongestant sprays should only be used for three consecutive days, according to MedlinePlus. A doctor may prescribe antibiotics if she believes the infection is bacterial. Delta Airlines states that chewing gum, yawing and swallowing during take-off and descent can help prevent congestion in the sinuses from causing pain and discomfort.
Complications
Flying with a sinus infection could lead to a ruptured eardrum, according to Delta Airlines. The symptoms of a ruptured ear drum are drainage from the ear, ear pain, hearing loss, buzzing in the ear and facial weakness, according to the New York Times. A ruptured eardrum heals by itself within two months but may require surgical repair if it doesn't heal correctly.
Prevention
To prevent complications from a sinus infection while flying, postpone the flight or avoiding flying, according to MedlinePlus. Use decongestants the day before the flight and the day of the flight. Antihistamines are used to dry up excessive mucus in the head, which can help prevent pain from sinus and ear pressure during flight. If the infection is the result of bacteria, antibiotics could alleviate symptoms in two to three days. Discuss medical options with a doctor before taking any medication.