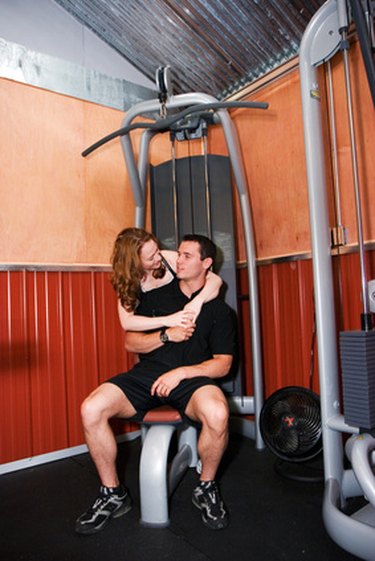 Bowflex specializes in home fitness equipment ranging from treadmills, elliptical trainers, free weights, and multi-function home gyms. Additionally, Bowflex manufactures nationwide brands Shwinn Fitness, Nautilus and Universal, which provide top-of-the-line fitness equipment for individual and commercial use. The best-selling home gym available from Bowflex is the Xtreme 2 SE Home Gym model, which competes with the older version, Xtreme SE. Although both gyms offer similar benefits, there are some subtle differences that can determine which model you may want to purchase.
Cost
Bowflex distributes varying price points in home fitness gyms to cater to the means of most individuals. The Bowflex Xtreme SE is priced at $1,299, as of summer 2010, while the improved Bowflex Xtreme 2 SE is priced at $1,599—a difference of $300. Your choice would depend on your level of fitness and how often you plan to use this piece of equipment; both models offer fitness benefits.
Number of Exercises
The Bowflex Xtreme 2 SE allows the user to perform more than 70 exercises, while the Xtreme SE allows the user to perform more than 65. The Xtreme SE version allows the user to execute four different chest exercises; Bowflex added two additional chest exercises—decline chests fly and incline chest fly—to the Xtreme 2 model. The Xtreme 2 SE allows more arm, shoulder, back and leg exercises than the Xtreme SE, including seated forearm lateral shoulder raise, good mornings, bent rear deltoid row, rope push downs and single-leg calf raise.
Pulley System
One of the upgrades to the Bowflex Xtreme 2 is the no-change cable pulley system. This allows the user to change from several different exercises without interrupting the workout to adjust or re-route pulleys. The no-change cable feature not only saves time, but prevents too long of a rest between movements.
Lower Pulley/Squat Station
Both models of the Bowflex Xtreme are equipped with a lower pulley system to allow for squats and strengthening the glutes, hamstrings, and quadriceps. The Xtreme SE version was originally built with a 3-position pulley system; the Xtreme 2 SE was designed with a 4-position pulley.
Quick Change Power Rod System
Although both Bowflex models-Xtreme SE and Xtreme 2 SE come equipped with a power rod system that allows the user to adjust resistance up to 410 lbs., the Xtreme 2 power rod system enables the user to quickly change from one resistance to another without spending too much time resting between sets.