Bactrim, chemically known as sulfamethoxazole and trimethoprim, is an antibiotic used to treat various infections of the urinary tract, ear and respiratory tract. The U.S. Food and Drug Administration categorizes Bactrim as a pregnancy category C medication indicating notable harm has been shown in animals; adequate studies in humans are unavailable. Medication selection is complicated for pregnant women as there is potential risk to the developing fetus. Common side effects of Bactrim may cause additional problems for the pregnant woman already dealing with the symptoms of pregnancy.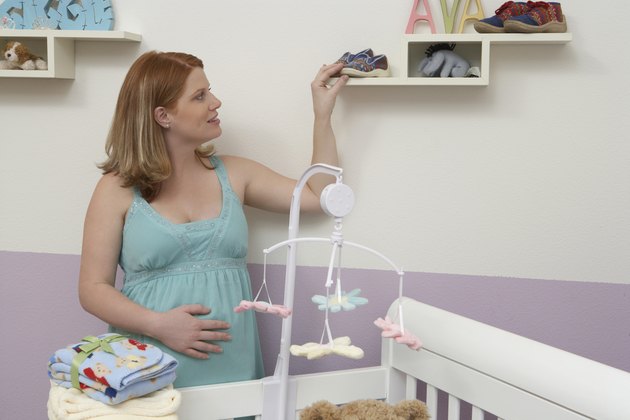 Gastrointestinal Problems
Common side effects of medications can become more problematic in the pregnant woman. Bactrim commonly causes nausea, vomiting and anorexia. Since pregnancy can cause these symptoms, Bactrim use can result in an increased effect in pregnant women. Weight loss could be potentially harmful to the developing fetus.
Folic Acid Metabolism Interference
Trimethoprim and sulfamethoxazole cross the placenta and can interfere with the metabolism of folic acid, a necessary component used in the body to produce blood. Folic acid deficiency during the first trimester of pregnancy increases the risk of spinal cord abnormalities such as spina bifida, in which the spinal cord is exposed, or anencephaly, a severe underdevelopment of the brain, says the American Pregnancy Association. Bactrim use should be avoided if at all possible in the first trimester of pregnancy for this reason. Typical folic acid supplementation is 400 mcg daily; if a pregnant woman requires Bactrim, however, the folic acid dose is increased to as much as 5 to 10 mg daily.
Increased Risk of Kernicterus
The buildup of bilirubin, a byproduct of recycled red blood cells, causes a yellowing of the skin in most newborns known as jaundice. In severe cases, high levels of bilirubin collect in the brain causing permanent brain damage known as kernicterus. Avoiding Bactrim in the last trimester of pregnancy will decrease the risk of kernicterus, according to the FDA. Bactrim use is also ill advised for the breast-feeding mother because Bactrim passes through breast milk and may increase the risk of kernicterus during the early weeks of life. A doctor should be consulted about alternative treatments; safer treatment options exist.
Skin Reactions and Anemia
Allergic skin reactions are common with Bactrim use and in rare cases serious skin reactions such as Stevens-Johnson syndrome can occur. Changes in white and red blood cell counts are possible with Bactrim use and could contribute to anemia, already a common complication of pregnancy.