Your high school reunion is just around the corner, and you want to look your best. You don't have enough time for old-fashioned healthy eating and exercise, so you toy with the idea of stepping out of the kitchen for a while. While putting the kibosh on food may seem harmless, this kind of calorie-deficient diet can have very serious health consequences. If you want to lose weight, talk to your doctor about a well-balanced diet suited to your personal needs.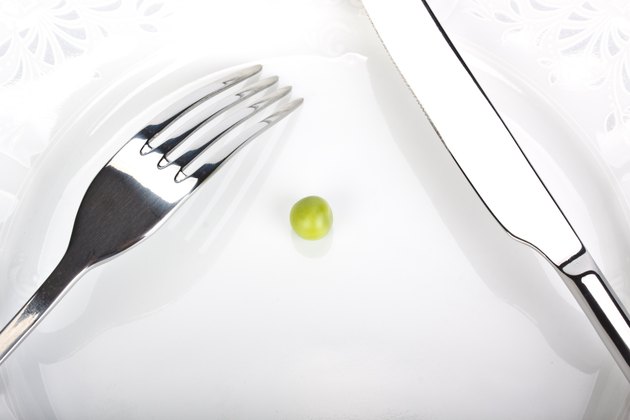 Understanding Undernutrition
Malnutrition is an umbrella term defined as an imbalance between the nutrients your body needs and the ones it receives. Undernutrition is a more specific term for a deficit in calories that is often accompanied by vitamin and mineral deficiencies. Although undernutrition is relatively rare in developed countries, it can occur in individuals who adopt dangerously restrictive diet plans or who have eating disorders.
Feel the Burn
Imagine you are house-bound in the middle of a blizzard. The power is out and you have no firewood. To stay warm, you break apart your furniture and start a fire. Your body has a similar response when you are undernourished. If you stop eating, your body breaks down fat stores for energy. Once the fat stores are exhausted, the body cannibalizes other tissues, including the muscles and organs, in order to keep your brain alive.
Conserving Energy
When your calorie intake is inadequate, your body takes measures to reduce energy expenditure. In women, undernutrition is often accompanied by the cessation of a regular menstrual cycle and a loss of fertility. Bone density diminishes with the decrease in estrogen combined with poor diet. Men and women may experience a loss of libido. An undernourished individual is likely to feel fatigued, apathetic and dizzy and will have difficulty fighting off illness as the immune system doesn't have the fuel it needs to operate efficiently. Because thyroid function is impaired, an undernourished person will also feel cold all the time.
Drawing a Line
How many calories are necessary to support basic functions like breathing and digestion and physical activity varies from person to person. As a general rule, however, you should not go below 1,200 calories per day, according to Waldo County General Hospital. If you stop eating, the calorie deficit will actually stall your weight-loss efforts as your body goes into survival mode and clings desperately to fat reserves.
Extreme Consequences
Not eating for a day or two will make you woozy, but long-term undernourishment can have serious -- even deadly -- consequences. Merck Manual Home Health Handbook enumerates the far-reaching effects of a starvation diet, including frequent diarrhea, cardiovascular complications and heart failure, respiratory complications and respiratory failure, hypothermia and impaired mental functioning. This conglomeration of symptoms can be fatal when individuals take dieting and calorie restriction to the extreme, as is the case with anorexia nervosa.