Synthroid, or levothyroxine, is a medication commonly prescribed to treat hypothyroidism, or the low production of thyroid hormone, states MayoClinic.com. Synthroid is identical to thyroid hormone produced by the human thyroid gland, thus, mimicking its effects. Researchers do not completely understand the mechanism of thyroid hormone, but do know that thyroid hormone regulates the body's metabolism and the way it processes energy. While Synthroide is safe in most patients, it may cause bad side effects in others.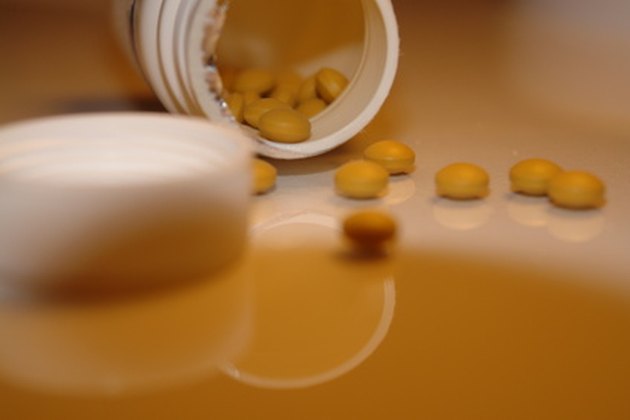 Anxiety
According to Drugs.com, Synthroid may cause anxiety in some patients because synthroid increases the body's metabolism and speeds up the body's reactions on the cellular level. This can affect certain parts of the brain that are related to anxiety, causing a patient to feel anxious throughout the day. An increase in anxiety may make concentration and task completion difficult. Furthermore, you may notice an increase in nervousness, irritability and insomnia, states Drugs.com. You should let your doctor know that you are feeling excessively anxious while taking Synthroid. A doctor may adjust the dose depending on the levels of thyroid hormone determined by blood tests or may prescribe a different medication that does not have this particular side-effect.
Irregular Heartbeat
Drugs.com states that Synthroid may cause an irregular heartbeat in some patients because Synthroid can affect chemical signals around the heart related to how the heart functions. As a result, Synthroid may cause a fast heartbeat, an irregular heartbeat or an irregularly strong heartbeat. An irregular heartbeat can cause lightheadedness, dizziness or excessive fatigue. In more severe cases, it may cause chest pain. Do not hesitate to seek immediate medical treatment if you are experiencing heart abnormalities.
Diarrhea
Synthroid may speed up chemical reactions in the gastrointestinal system that can cause diarrhea in certain patients, reports Drugs.com. A patient experiencing diarrhea may have poor absorption of food, and diarrhea may interfere with daily activities. Notify your doctor if you experience excessive diarrhea. The doctor may adjust the dosage or prescribe a different synthetic hormone to control diarrhea. Until diarrhea is controlled, you should drink plenty of water to avoid becoming dehydrated.