Anxiety occurs as a normal reaction to stress; however, when it becomes excessive or interferes with everyday activities, it can become disabling. A stroke occurs when something interferes with the blood flow to the brain. Without an adequate supply of blood--and therefore oxygen--the brain cells die, which impacts various bodily functions. Although doctors classify anxiety as a psychological disorder, the reactions it triggers in the body result in physical symptoms, some of which feel similar to a stroke.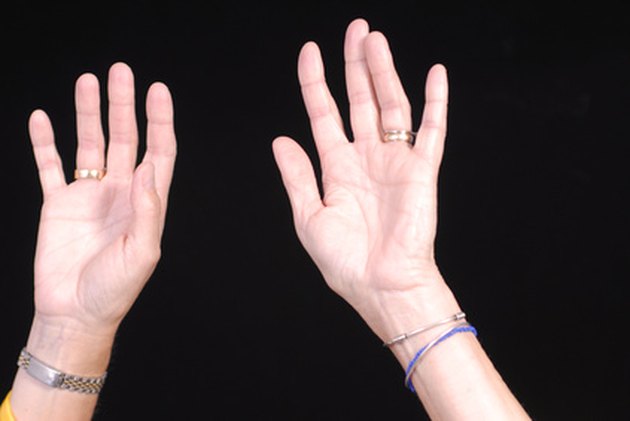 Tingling and Numbness
When presented with a stressful situation, the body begins a chain of events known as an acute stress reaction, or the "fight or flight" response. During this response the body releases increased amounts of the hormones adrenaline, also called epinephrine, and norepinephrine. These hormones cause the heart to beat faster, the blood vessels to constrict, the breathing rate to increase and the muscles to contract, as described by PsychologistWorld.com.
The constriction of the blood vessels affects the flow of blood, especially to the hands and feet. This can cause feelings of tingling and numbness in the arms, hands and feet that can lead to feelings of weakness. Similarly, a stroke causes sudden numbness or weakness in the arms and hands.
Vision Disturbances
Anxiety can affect many of the senses, including vision. The increased level of adrenaline triggers the pupils to dilate. This increases the ability of the eyes to notice even slight changes, a response that is necessary for survival when encountering truly stressful or life-threatening situations. The dilated pupils increase the sensitivity to light, which adds strain to the eyes and vision disturbances, according to the National Panic and Anxiety Disorder News.
The damage and death of cells in the brain during a stroke can also cause visual disturbances. Stroke patients often experience double vision, blurred vision and decreased vision.
Headache
The hormones released during periods of anxiety cause muscles to contract. This results in tension throughout the body, including the head, neck and shoulders that can lead to a headache. Anxiety also causes blood vessels to constrict, restricting the flow of blood to the nerves in the head and contributing to the onset of a headache.
The lack of oxygen in the brain that occurs during a stroke also triggers a headache. The headache caused by a stroke usually comes on suddenly, and can feel like a "bolt out of the blue," as described by MayoClinic.com.