Methamphetamine, or meth, is a powerful brain stimulant with tremendous potential for addiction and abuse. In its crystal form meth is typically smoked but can also be snorted or dissolved and injected. Crystal meth can have a number of dangerously negative effects on the body and brain. The psychological tolls of crystal meth are devastating to meth users, their friends and family, and the community as a whole.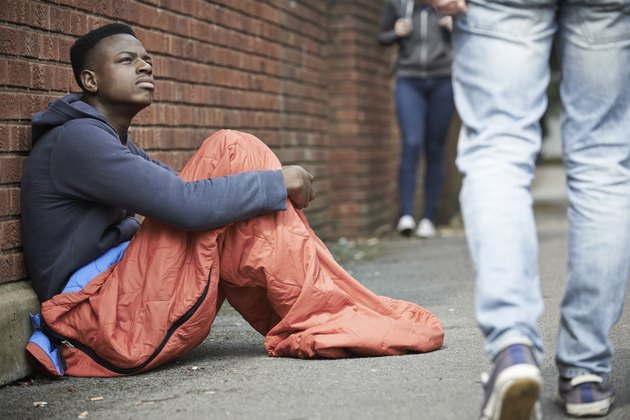 Addiction
The initial use of crystal methamphetamine brings about feelings of euphoria. These feelings come about as meth works on specific dopamine nerve centers in the brain to give the body and brain the illusion of having unlimited energy, explains the Illinois Attorney General's Office. Any drug that activates dopamine neurotransmitter systems will have tremendous potential for addiction rooted in the biology of the brain. As a result of addiction, meth users will have difficulties controlling doses of meth used. Users may continue to self-administer meth until they run out of the drug. At this point the user may have been awake for several days and is likely to be in an irritable and potentially violent state.
Learning Difficulties
In addition to bringing about feelings of pleasure and euphoria, the neurotransmitter dopamine also plays an important role in learning and memory. Long-term use of meth can destroy the balance of the dopamine system and lower levels of dopamine in the brain. As a result of dopamine loss, chronic meth users may have problems learning new tasks, particularly new motor skills. The National Institute on Drug Abuse explains that meth users may also have problems with verbal memory.
Symptoms of Psychosis
The National Institute of Drug Abuse explains that methamphetamine use can bring on some symptoms of psychosis. Meth users may experience mental delusions and sensory hallucinations that fuel paranoia and irritability. People who take crystal meth commonly report experiencing visual and auditory hallucinations. According to MethResources.gov, crystal meth users also hallucinate feelings such as bugs crawling on their skin, causing meth users to incessantly scratch and pick at themselves, resulting in rashes and skin abrasions.
"Tweaking"
One of the most severe and dangerous psychological side effects of meth use is known as "tweaking." Tweaking comes about when an individual using meth has not slept for three to 15 days, resulting in confusion, irritability and paranoia. Tweakers may appear normal from a distance. Upon closer look, tweaking meth users will have very fast eye movements and may talk in a rapid and confused manner. Tweakers may also have jerky bodily movements. The Center for Substance Abuse and Research at the University of Maryland explains that tweaking usually comes about as a meth addict seeks out more methamphetamine in an attempt to achieve the original feelings of being high. The inability to achieve euphoria results in frustration and anger and can lead to violent, irrational behavior. Meth users in the tweaking state are more prone to criminal behavior and are also more likely to cause motor vehicle accidents.