Seroquel is the brand name of a drug known as quetiapine. This drug is used to treat psychiatric disorders such as bipolar disorder and schizophrenia. Because Seroquel changes the way chemicals in the brain work, it can have a number of side effects. These side effects range in severity from very mild to life-threatening and may be bothersome enough to warrant a change to a different drug.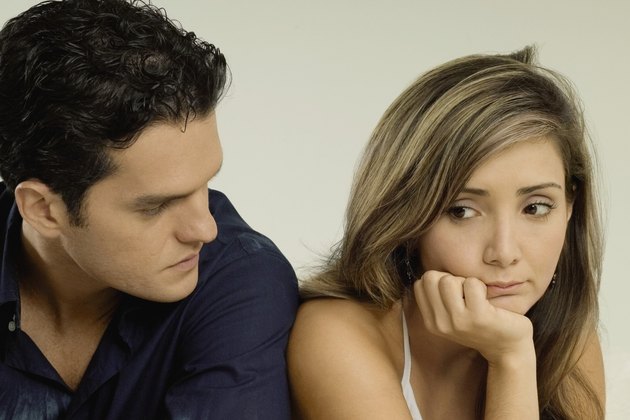 Digestive System
Digestive system side effects are common in Seroquel users. Drugs.com reports that nine percent of patients receiving Seroquel during clinical trials experienced dry mouth. Eight percent experienced constipation, six percent experienced vomiting, five percent experienced indigestion and two percent experienced gastroenteritis. Other digestive system side effects include increased salivation, gingivitis, difficulty swallowing, flatulence, fecal incontinence, gastroesophageal reflux, swelling of the tongue, inflammation of the tongue, vomiting of blood, intestinal obstruction and pancreatitis.
Nervous System
Nervous system side effects are also experienced frequently by patients who take Seroquel. In clinical trials conducted by AstraZeneca, 20 percent of participants taking the drug developed agitation and 18 percent experienced dizziness. Tremor and anxiety were the other most common nervous system side effects, with an occurrence of 11 percent and four percent, respectively. Other nervous system side effects include vertigo, abnormal thinking, confusion, amnesia, loss of coordination, nerve pain, stuttering and subdural hematoma. According to Drugs.com, two cases of a deadly condition known as neuroleptic malignant syndrome were reported and may have been related to the use of Seroquel.
Endocrine System
Representatives from AstraZeneca, the maker of Seroquel, indicate that people taking this drug may experience higher blood sugar levels. Drugs.com also reports that people taking Seroquel are at risk for developing diabetes and high blood sugar. This drug also interferes with the production of thyroid-stimulating hormone and causes decreases in the amounts of thyroxine and triiodothyronine in the blood. Other endocrine system side effects include hyperthyroidism, hypothyroidism and interference with the secretion of antidiuretic hormone (ADH).
Cardiovascular System
There are a number of Seroquel side effects that impact the cardiovascular system. The most common are tachycardia, palpitation and postural hypotension. Other cardiovascular system side effects include bradycardia, irregular pulse, dilation of the blood vessels, bundle branch block, stroke, blood clots, chest pain, congestive heart failure, inflammation of the blood vessels, cardiomyopathy, inflammation of the heart muscle and T wave abnormality.
Skin Effects
Rash and sweating are the most common skin effects of Seroquel. Other dermatologic side effects include acne, eczema, seborrhea, contact dermatitis, ski ulcers, skin discoloration and psoriasis. Rarely, erythema multiforme minor can occur, but should resolve if Seroquel use is discontinued.
Respiratory System
Seroquel can impact the lungs and other parts of the respiratory system. Pharyngitis and rhinitis are the most common respiratory system side effects. Other side effects affecting the respiratory system include difficulty breathing, coughing, nosebleed, asthma, pneumonia and hyperventilation.
Metabolic Effects
Seroquel can lead to weight gain within the first 12 weeks of treatment. This drug can also cause increased SGPT and SGOT levels, two enzymes found in the cells of the heart and liver. Other metabolic effects include weight loss, high blood sugar levels and low blood sugar levels.
Genitourinary System
Seroquel can affect the functioning of the bladder, kidneys and reproductive organs. Side effects include absence of the menstrual period, vaginal inflammation, urinary incontinence, impotence, painful urination, abnormal ejaculation, urinary tract infection, painful menstruation, vaginal hemorrhage, inflammation of the testes, gynecomastia and urinary frequency. This drug has also been linked to acute kidney failure, but it has not been determined if Seroquel was the cause of that failure.
Musculoskeletal System
Musculoskeletal system side effects include twitching, fractures, joint pain, inflammation of the joints, bone pains and leg cramps. According to Drugs.com, it has not been determined if Seroquel was the cause of these musculoskeletal changes.
Psychiatric Effects
While Seroquel can be used to effectively treat some psychiatric conditions, it also has some psychiatric side effects that are undesirable. They include hallucinations, psychosis, paranoia, manic episodes, delusions, suicide attempts, euphoria and catatonia.