To lose weight, you need to burn more calories than you consume. Exercise, especially intense cardiovascular types that utilize the major muscle groups, burns a lot of calories. Kickboxing qualifies as a moderate to high-intensity cardiovascular workout that burns calories and helps you build muscle tone. Whether you kick box in a private studio or participate in cardio kickboxing class at the gym, kickboxing can help you lose weight.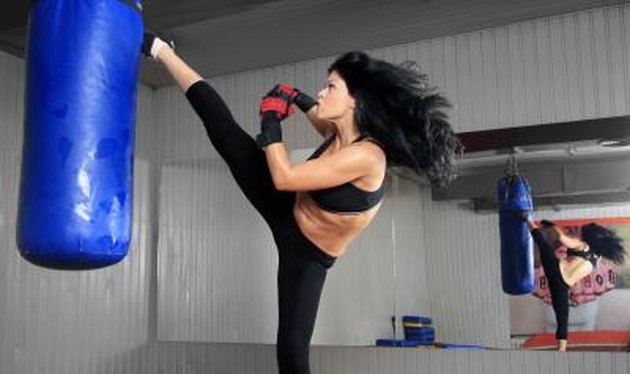 Features of Kickboxing
Kickboxing combines moves from boxing, martial arts and aerobic training to deliver a total body workout. Classes usually follow a format involving a five- to 10-minute warmup, punching and kicking drills interspersed with athletic conditioning and a five minute stretch and cool-down. The movements are repetitive to hone agility and speed, as well as proper execution of movement.
Weight Loss Potential
A pound of weight equals 3,500 calories. You must burn about 500 calories more than you consume in a day to lose just 1 lb. per week. Coupling exercise efforts with a low-calorie diet can accelerate weight loss. A 135 lb. person will burn about 350 to 450 calories in a 50-minute class, says the American Council on Exercise. So, assuming you are not eating more calories than your body burns, if you add in a kickboxing class three times per week, you can burn about 1,200 extra calories per week, yielding .34 lbs. of weight loss per week. If you reduce your calorie intake by 500 calories daily in addition to the kickboxing, you can lose 1.34 lbs. per week.
Caution
In August 2003, the "Journal of Strength and Conditioning Research" reported that 15.5 percent of participants in kickboxing classes report injuries--commonly to the knee, hip and shoulder. Seek out a certified instructor who keeps the speed to below 140 beats per minute to help prevent you from getting hurt. Alert your instructor to any physical limitations you may have so they may offer appropriate modifications. Finally, be aware that kicking, punching and jumping moves may be inappropriate for people with joint problems.
Considerations
Due to the intensity and impact of kickboxing, you should build up aerobic endurance before attending. If you must modify many of the moves, you may burn fewer calories in class and weight loss will be less significant. At the same time, avoid giving into the group mentality and working beyond your capability. This can lead to injury, and if you are sidelined from exercise, you'll need even more time to reach your weight-loss goal.
Misconceptions
Some kickboxing programs promise they burn up to 800 calories per hour. The American Council on Exercise notes that this high of a burn results from extremely high activity not achievable by most people. Although it might seem you can increase your workout intensity by holding dumbbells while throwing punches, this actually compromises your form and could lead to injury.