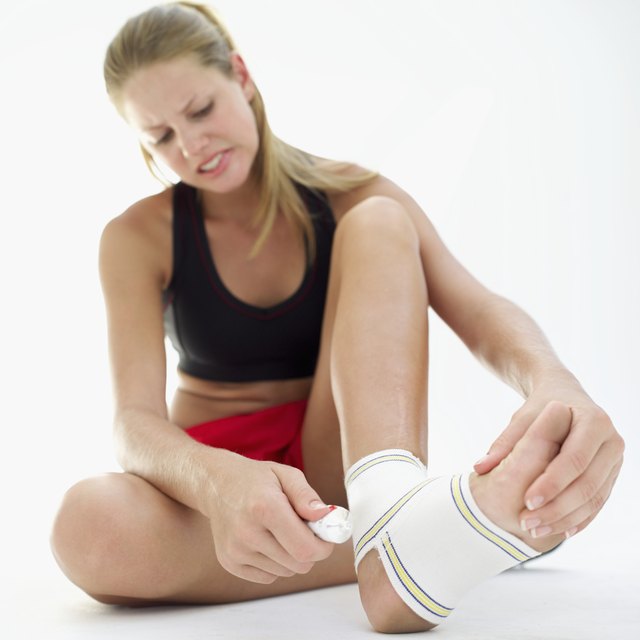 Running can put a lot of stress on the feet. Over time, all that pounding on the pavement can irritate the bottom of the feet. According to the American Foot and Ankle Society, heel pain is the most common condition of the foot and ankle. The good news is that you probably won't need to hang up your running shoes forever. Heel pain usually resolves on its own with conservative treatment if you rest your aching heel. Consult your doctor, however, if the pain persists or is severe.
Causes
The most common cause of heel pain is plantar fasciitis, according to the American Academy of Orthopedic Surgeons. Plantar fasciitis is an inflammation of the plantar fascia, a ligament on the bottom of the foot that connects the ball of the foot to the heel. Other common causes of heel pain include bone spurs, bruised fat pad, calcaneal stress fracture, heel bursitis and Achilles tendonitis.
At-Home Treatment
Anti-inflammatories, such as ibuprofen or aspirin, may be used to reduce pain and swelling. (Ask your doctor before taking any new medications, though, even over-the-counter.) Try to rest your foot for at least one week and avoid running or standing on your feet for prolonged periods. Apply ice to the heel for 10 to 15 minutes at least two times a day to reduce pain and swelling. Also make sure that your running shoes fit properly and have enough support. Consider buying a heel cup or orthotic to provide extra cushioning in the heel area.
Expert Insight
MayoClinic.com recommends that you see your doctor if you experience any of the following symptoms: extreme pain; fever; inability to walk; tingling or numbness in the heel; inability to push up on your toes or to push your foot down; pain that persists more than one month or that does not improve after conservative treatment; or pain at rest.
Stretches
Stretching the foot is important for preventing heel pain in the future. The plantar fascia stretch and calf stretch are two stretches that may be beneficial for stretching tight muscles of the foot. To perform the plantar fascia stretch, sit down in a chair and place your injured heel over your other knee. Pull your toes toward you slowly, while feeling a stretch on the bottom of the foot. Hold for 10 seconds and perform 20 repetitions. To do the calf stretch, place both hands on a wall and put one leg behind the other. Keep the back leg straight and the one in front slightly bent. Make sure both heels are flat against the ground and lean forward slightly, while feeling a stretch in the calf. Hold for 10 seconds and perform 20 repetitions.
Prevention
If you are just getting into running or getting back into an old running routine, build up your mileage slowly. Running high mileages when you are not properly conditioned can result in injury because the muscles fatigue quickly. Always stretch after a proper warm-up prior to running to prevent pulled muscles and injuries. Replace running shoes about every six months, depending on the mileage you are logging in them.