Numbness and tingling can occur anywhere in the body, but they are most often felt on skin of the fingers, hands, feet, arms and legs, according to MedlinePlus. Numbness is decreased or lost sensation. There are several causes of this condition, many of which are mild but can also indicate a serious underlying health problem. Individuals who experience long-lasting numbness or numbness that accompanies pain should seek immediate medical attention.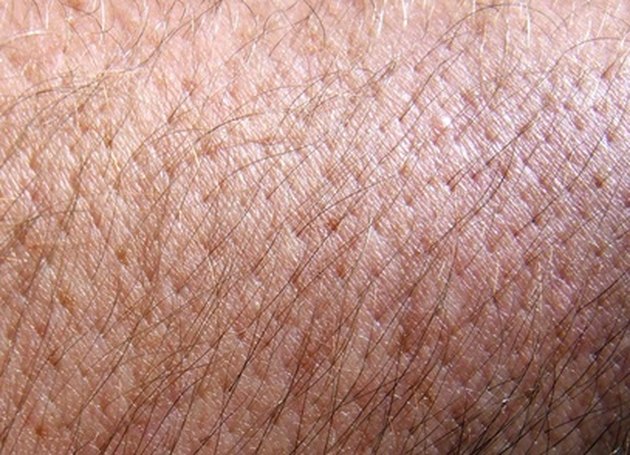 Nerve Injury or Pressure
A common cause of skin numbness, MedlinePlus reports, is an injury or pressure to a nerve. A neck injury, for example, can cause the skin along the arm or hand to feel numb, while a lower back trauma can cause the numbness to go down the back of the leg. Pressure on the spinal nerves or peripheral nerves from a herniated disk, enlarged blood vessels, tumors, scar tissue or infections can cause skin numbness due to the nerve's inability to function, according to MedlinePlus. In severe cases, toxic exposure to lead, alcohol or tobacco can cause permanent nerve damage.
Lack of Blood
Mild cases of skin numbness generally occur due to a lack of blood supply to a region of the body. For example, remaining the in the same seated or standing position can cause poor blood circulation, leading to the numbing sensation, MedlinePlus says. Alternatively, this can also occur in more severe cases when cholesterol buildup impedes regular blood flow, causing numbness, pain and tingling when walking, referred to as vascular claudication. Individuals suffering from a concurrent or persistent numbness should contact a health care professional immediately as it may indicate a cardiovascular issue such as a heart attack, MayoClinic.com warns.
Diabetes
Diabetes occurs when the body produces too little insulin, resists insulin, or both, according to MedlinePlus. Individuals with diabetes may experience diabetic neuropathies in which diabetics suffer nerve damage throughout the body. Some may not experience symptoms, while others will feel an acute sense of numbness. Approximately 60 to 70 percent of diabetics have a form of neuropathy, according to the National Diabetes Information Clearing House. It is most common for those who've had diabetes for at least 25 years and is more frequent in those with issues controlling their blood sugar levels due to high levels of body fat. Numbness will generally appear with tingling or pain in the toes, feet, legs, hands, arms and fingers, the National Diabetes Information Clearing House says. Practicing proper dietary habits and adhering to the medication regimen set forth by a physician, significantly reduces the chance of experiencing diabetic neuropathy.