At age 20, you're right on the cusp of finishing up your growth spurt and settling into your fully developed adult body. You still need vitamins that support growth and strong bones, as well as ones that can support a healthy pregnancy in the future. Before taking a vitamin supplement, talk about it with your doctor to be safe and ensure you're getting the right dosage.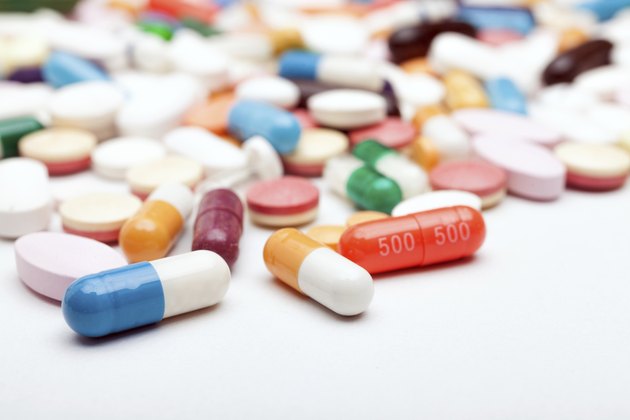 Folate or Folic Acid
You might not be thinking about having kids quite yet, but your early 20s is a good time to start preparing your body. Consider taking folate, which is also known as folic acid. Folate is essential for cell division and DNA formation during growth. This is important for your own body, as you're finalizing your growth spurt from your teen years. It's also imperative for a growing baby. Folate supports the rapid growth of the neurological system, minimizing neural tube defects that occur during the first few weeks of pregnancy. At age 20, you need 400 micrograms daily, which goes up to 600 micrograms during pregnancy, then 500 micrograms if you breast-feed.
Vitamin D
Although your bones probably aren't growing much if you're 20 years old, they're still constantly remodeling themselves. Bone tissue gets broken down and replaced around the clock. You need plenty of vitamin D to help your body absorb the mineral calcium, so your bones can stay strong. If your vitamin D level starts dropping, your bones could become weak and brittle, leaving you with chronic bone pain. Get 15 micrograms -- or 600 international units -- of vitamin D every day. This amount doesn't change, even if you're pregnant or nursing, the Food and Nutrition Board of the Institute of Medicine reports.
Vitamin K
Vitamin K is vital at age 20 because it further strengthens bone structure and allows cells to grow normally. But vitamin K's biggest job is making blood clot and helping scabs to form, in case you have an injury. Without adequate vitamin K, your periods could become abnormally heavy and uncomfortable, as blood has a hard time clotting properly, the Linus Pauling Institute notes. Your recommendation is 90 micrograms a day, which stays the same during pregnancy and breast-feeding stages.
Vitamin C
Vitamin C can help prevent iron-deficiency anemia, or low iron levels, which leaves you frequently fatigued. Nonheme iron, the kind you get from plants, fortified foods and supplements, needs vitamin C -- ideally taken at the same time -- to facilitate absorption. Vitamin C is also responsible for forming collagen, a connective tissue that keeps your skin healthy. The antioxidant function of vitamin C wards off damaging free radicals, further preserving your glowing skin. At age 20, you need to get 75 milligrams daily, according to the Food and Nutrition Board. Up it to 85 milligrams daily during pregnancy, then 120 milligrams if you breast-feed. If you smoke, you'll need an extra 35 milligrams, since the habit increases oxidative damage to cells, requiring more antioxidant vitamin C to protect cells.