The Mayo Clinic is one of the most respected medical and research groups in the world, and it is ranked the number two hospital in the country by "U.S. News & World Report." It's not surprising, then, that this institution would develop a weight-loss diet for consumers. However, the Mayo Clinic cautions against "fake" Mayo Clinic diets, which have appeared frequently and have endorsed cabbage soup regimens, grapefruit diets and more. The true Mayo Clinic diet is based on the balanced Mayo Clinic food pyramid.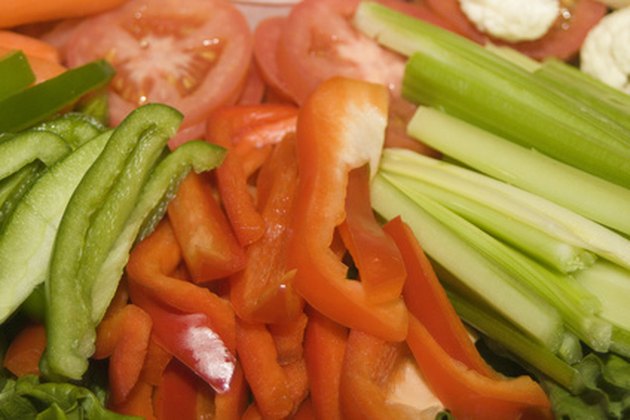 Fruits and Vegetables
At the foundation of the Mayo Clinic food pyramid is fruits and vegetables, which are permitted in unlimited amounts. The Mayo Clinic advises a minimum of three fruits and four vegetables per day. Avoid fattening or heavily-sauced preparations of vegetables, as well as sugary fruits. Fruits and vegetables are packed with nutrients and also provide fiber, which helps you feel fuller throughout the day.
Carbohydrates
Although carbohydrates seem to have been vilified by many diets in recent years, the Mayo Clinic pyramid recommends four to eight daily servings of healthy carbs. In particular, you should seek out healthy whole grain breads and pastas, as well as brown rice. You should eat fewer carbohydrates that contain white flour and refined sugars, such as white bread, sugary snacks and white rice.
Protein
Protein and dairy are important parts of your daily diet, and the Mayo Clinic suggests between three and seven daily servings of these food groups. In addition to healthy, lean meats, you can also get protein through legumes, nuts, beans and plant sources such as soy. Dairy can take the form of low-fat or skim milk, low-fat yogurt, and cheeses like cottage or ricotta.
Fats
Although fats are something to be mindful of, you do need them in your diet. The Mayo Clinic suggests three to five daily servings of fats. You can make the most of these fats by seeking out healthy monounsaturated fats and avoiding trans fats. Some sources of healthy fats include nuts, legumes, olive oil, avocado and fatty fish.
Sweets
Although the Mayo Clinic pyramid does allow for some sweets, these largely "empty" foods are restricted to 75 calories per day. Keep in mind that some fruits do contain natural sugars and may satisfy your "sweet tooth" without the added fat and calories.