Packed with healthy fats, vitamin E, iron, potassium and zinc, avocados offer lots of nutritional value in each creamy, decadent-tasting serving. There are two types of avocados abundant in the U.S.: California avocados, which have skin that ranges from dark green to black and a highly rich inner flesh, and Florida avocados, which have bright green skin and a slightly less rich-tasting flesh. Both types are high in fat, but they also contain smaller amounts of carbohydrates and protein.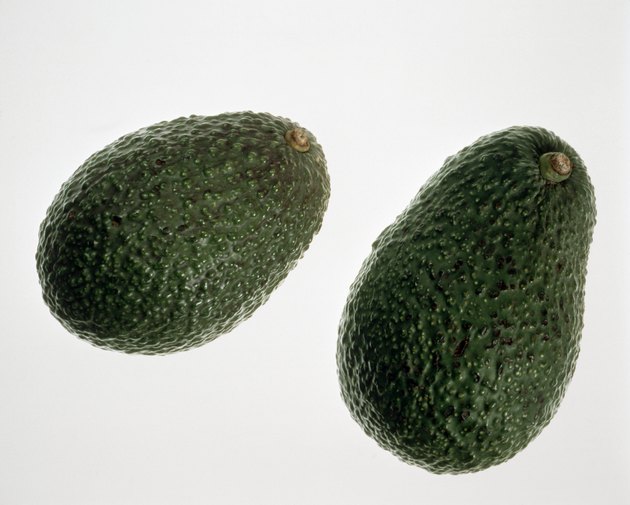 Carbohydrates in Avocado
Although most of the energy in avocado comes from its fat content, avocados also contain a small amount of carbs. A standard serving of California avocado -- roughly an ounce -- has 3 grams of total carbohydrates, while an equivalent serving of Florida avocado has 2 grams of carbohydrates. If you're eating pureed avocado, a quarter-cup serving of California avocado offers 5 grams of carbohydrates -- slightly more than the 4.5 grams of carbohydrates in a quarter-cup of pureed Florida avocado.
Avocado has just a tiny amount of sugar -- which is a simple carbohydrate -- although California avocados have slightly more than their Florida counterparts. But a serving of either California or Florida avocado has less than a gram of sugar.
Don't Forget Fiber
Most of avocados' carb content comes from fiber. That's a good thing -- fiber keeps you regular, it's beneficial for keeping you full after eating and it fights cardiovascular disease. A serving of California or Florida avocado has about 2 grams of fiber -- a small but significant amount toward the 21 to 38 grams of fiber recommended for adults, depending on your age and gender. A quarter-cup of pureed California avocado has 4 grams of dietary fiber, while an equivalent serving of Florida avocado offers around 3 grams of fiber.
Protein in Avocados
Like most fruits and veggies, avocados aren't a significant source of protein. A serving of either California or Florida avocado has less than a gram of protein, and even a quarter-cup serving of pureed avocado hardly boosts your protein intake by more than a gram. That's why it's a good idea to pair avocado with other foods to boost your protein intake at each meal. In addition to helping maintain healthy tissues and boosting your immune system, protein helps with satiety, so pairing avocado with protein-packed foods is more likely to keep you full longer than eating avocado alone.
Healthy Avocado Serving Tips
Even though you're probably most familiar with eating avocados in guacamole, they're versatile in the kitchen and can be used to add richness to your favorite foods. Add a spoonful of avocado to your favorite protein smoothie for a fiber and healthy fat boost, or use pureed avocado as a spread in wraps or sandwiches instead of processed spreads, like mayonnaise. It works especially well with turkey -- which is a rich source of lean protein. Or make baked eggs in avocado for a decadent-tasting breakfast that's high in healthy fats, fiber and protein. Simply crack an egg into a halved avocado, with the pit removed, and bake until the white and yolk are set. For added nutrition and flavor, serve your avocado egg on a bed of steamed spinach and sprinkle with a dusting of cayenne pepper.