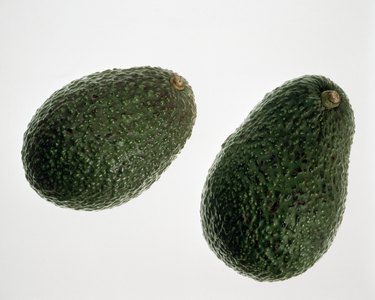 A good source of healthy fats, fiber, folate, vitamin K, pantothenic acid, copper, and antioxidants, avocados offer plenty of nutritional value in each creamy, decadent serving. There are a number of different types of avocados, but Hass avocados are the most abundant in the U.S. These fruits have pebbly skin that ranges from dark green to black and a highly rich inner flesh. All types are rich in healthy fats and contain small amounts of carbohydrates and protein.
Carbohydrates in Avocado
While most eat avocado for the energizing fat content, avocados also contain a small amount of carbs. A serving of avocado — one-third of a medium fruit — has roughly 4 grams of total carbohydrates.
Avocado has just a tiny amount of sugar, a simple carbohydrate. Most of an avocado's carb content comes from fiber. Fiber is the nutrient that keeps you full after you finish eating and aids digestion, according to Colorado State University. A serving of avocado has about 3 grams of fiber, a small but significant amount toward the 21 to 38 grams of fiber recommended for adults, which varies with age and gender.
Protein in Avocados
Like most other fruits — yes, avo is a fruit — avocados aren't a significant source of protein. A serving has about 1 gram of protein. It's a good idea to pair avocado with other foods to boost your protein consumption at each meal. In addition to helping maintain healthy tissues and boosting your immune system, protein helps with satiety. Pairing avocado with protein-packed foods will likely keep you full longer than eating avocado solo.
Healthy Avocado Serving Tips
Even though you're probably most familiar with avocado in guacamole form, they're versatile in the kitchen and can be used to add richness to your favorite foods. Add a spoonful of avocado to your favorite protein smoothie for a fiber and healthy fat boost, or use pureed avocado as a spread in wraps or sandwiches instead of processed spreads, like mayonnaise. Avo works especially well with turkey, a rich source of lean protein. Consider baking eggs in an avocado for a luxurious breakfast that's high in healthy fat, fiber and protein. Simply crack an egg into a halved avocado (pit removed) and bake until the white and yolk are set. For added nutrition and flavor, serve your avocado egg on a bed of steamed spinach and sprinkle with a dusting of cayenne pepper.
Learn more about the latest avocado nutrition research, free resources for health professionals, and recipes at LoveOneToday.com.