Conjugated linoleic acid, or CLA, is a fatty acid found in dairy and meat products in small amounts, and is used for weight loss, muscle growth and overall health. Taking a CLA supplement is a method of achieving your recommended dose of this fatty acid. Choosing to take a CLA supplement can provide you with health benefits such as fat-loss and disease prevention, but with a few possible side effects.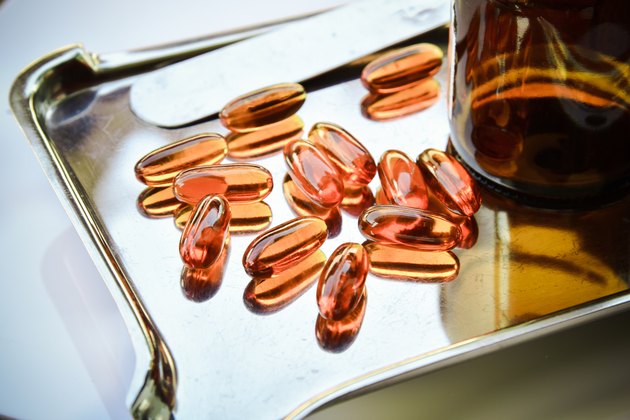 Side Effects of CLA
Although conjugated linoleic acid supplements are considered safe, as with any nutritional supplement, you should consider the possible side effects. Excessive intake of CLA can increase the risk of diabetes in overweight individuals, or can lead to stomach and intestinal problems, nausea and diarrhea. Additionally, CLA can be harmful to infants and should not be used by pregnant women or nursing mothers. However, for relatively healthy individuals, CLA is considered an overall safe supplement.
Health Benefits of CLA
Taking a CLA supplement can provide you with health benefits including muscle growth and weight loss when combined with exercise, disease prevention and increased energy. Typically, as you lose weight you also experience a decrease in muscle mass, but CLA aids in preserving muscle mass while increasing your body's metabolism. This increased metabolism increases your energy levels and your body's ability to burn calories. Conjugated linoleic acid may lower LDL cholesterol, and can enhance your immune system, increasing your overall health. The supplement also contains antioxidants, which can help to prevent diseases such as cancer.
How to Take CLA
Conjugated linoleic acid supplements are typically available as a solid capsule or in liquid form. CLA supplements vary in concentration, so you should look for a product that contains about 80 percent CLA. The recommended dosage of CLA supplements is 3.4g, or 3,400mg per day. Consuming conjugated linoleic acid supplements with high-protein foods such as milk can reduce the likelihood of experiencing nausea or diarrhea.
Scientific Study
In a study performed by Dr. Jean-Michel Gaullier, adults given a CLA supplement showed a 9 percent decrease in body fat, according to the Nutraingredients website. Individuals taking CLA were also able to maintain their reduced weight after the study. Gaullier also noted that only a small number of individuals reported mild side effects of stomach pains.
Disclaimer
CLA supplements are not intended to address diseases or health conditions. For your own safety, be sure to consult your doctor before using any nutritional supplement.