Lisinopril is a medication in a class of drugs known as angiotensin converting enzyme, or ACE inhibitors. According to PubMed Health, lisinopril works by decreasing certain chemicals in the body that tighten the blood vessels, so blood flows more smoothly and the heart can pump blood more efficiently. It is used for the treatment of high blood pressure and congestive heart failure, and may be used in conjunction with other medications. There are some side effects associated with lisinopril.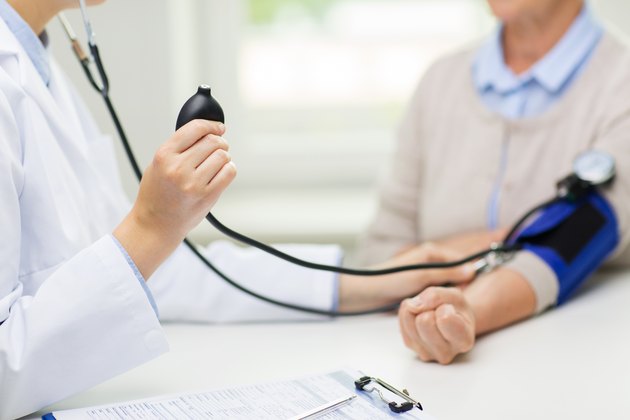 Tinnitus
According to Drugs.com, tinnitus may occur in patients taking lisinopril. Tinnitus is when one experiences a ringing sensation in the ears. It may or may not be accompanied by changes in hearing, vision, and balance. Patients who develop these side effects should consult their prescribing physician for further instruction.
Dizziness and Drowsiness
Dizziness and drowsiness may occur while taking lisinopril. These side effects may be temporary and lessen over time as the body begins to adjust to daily therapy with lisinopril. Patients should use caution while driving or completing tasks which may be dangerous until they know how this medication will affect them. In some cases, dizziness and drowsiness may be symptoms of hypotension, or low blood pressure. Users should avoid drinking alcohol as it can further lower blood pressure and may increase some of the side effects of lisinopril, says Drugs.com. Patients taking ACE inhibitor medications should be instructed on how to monitor their blood pressure at home. Those who develop low blood pressure while taking lisinopril should consult their doctor prior to taking another dose of medication.
Depression
Patients taking lisinopril may experience a depressed mood. Symptoms of depression can include sadness, irritability, insomnia, and fatigue. This side effect should be promptly reported to a doctor. In some cases, a change in medication or dosage may be recommended.
Gastrointestinal Discomfort
Lisinopril may cause gastrointestinal discomfort in some users. Symptoms may include nausea, vomiting, diarrhea or upset stomach. Taking lisinopril with food or milk may help to lessen these effects. Patients who develop vomiting or diarrhea that persists or worsens may be at risk for dehydration, very low blood pressure, electrolyte disorders, or kidney failure, reports Drugs.com.