Over 20 million people in the United States suffer from thyroid disorders, according to the American Thyroid Association. The thyroid gland at the base of the neck controls critical processes in the body, including metabolism. If the thyroid doesn't work properly, prescription thyroid hormone can help. Since the medication is actually thyroid hormone, the symptoms of too much thyroid medicine are identical to those of an overactive thyroid gland, in which the body makes too much thyroid hormone.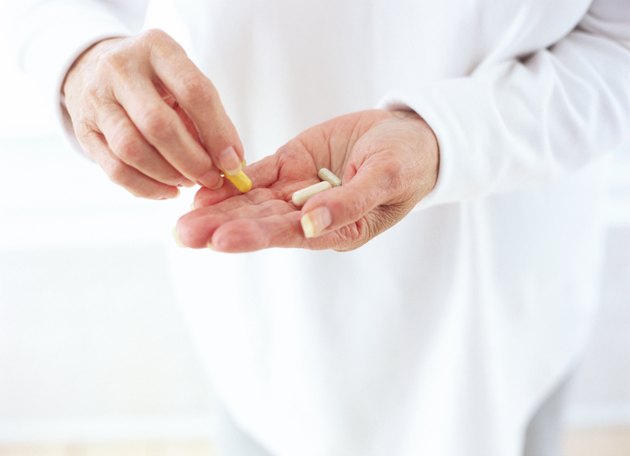 Heart Symptoms
One of the most common and often frightening symptoms that occur from too much thyroid hormone involve the heart. Too much thyroid hormone causes the heart rate to speed up. You may experience palpitations -- the sensation of a racing or pounding heart.
Digestive System Problems
The symptoms of too much thyroid medication are identical to an overactive thyroid gland, a disorder called hyperthyroidism. When too much thyroid hormone circulates and the body operates in a hyper-metabolic state, an increased appetite and frequent bowel movements become prominent. The complex mechanisms by which nearly all parts of the digestive system can be affected remain poorly understood.
Sweating and Heat Intolerance
Hyperthyroidism, whether caused by an overactive gland or by too much thyroid medication, speeds up metabolism and energy consumption by the body. This situation results in heat production, and the body responds by sweating -- a natural cooling mechanism. You may also feel hot when those around you seem comfortable. For people taking too much thyroid medicine, this may be one of the earliest symptoms.
Other symptoms
People who suffer from primary hyperthyroidism or take too much thyroid hormone report feeling anxious, jittery and irritable, and may suffer from insomnia and increased appetite. Tremors or trembling may become noticeable and bothersome as well. If excess thyroid hormone is taken over a longer time, weight loss may occur despite increased calorie consumption. Muscle weakness becomes more prominent, and you may feel fatigued. Hair loss and difficulty concentrating may also occur.
Acute Overdose
In an acute overdose, meaning a toxic dose of thyroid hormone suddenly ingested, thyroid storm becomes a concern, manifest by seizures and delirium, as well as heart arrhythmias and coma. Seek immediate medical attention if you overdose on thyroid medication.