Deralin is the Australian brand name for the generically named medicine propranolol hydrochloride. Categorized as a beta-blocker, Deralin can be prescribed for the treatment of high blood pressure; chest pain, also known as angina, which is related to the heart; arrhythmia; and other conditions. It may help prevent heart attacks, MyDr.com.au states. Deralin also may help prevent migraine headaches. The drug works to alter the way nerve impulses cause responses.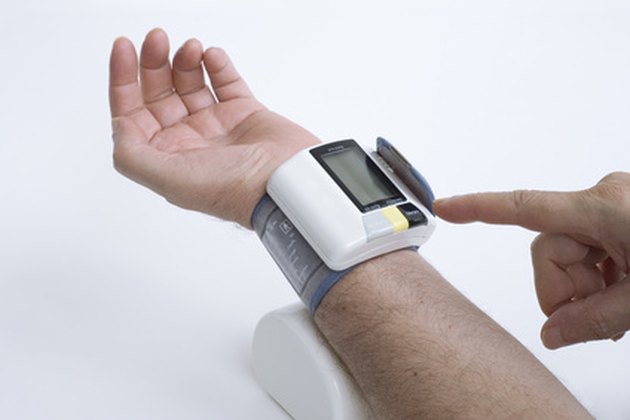 Sexual Problems
Taking Deralin may cause sexual side effects, according to MyDr.com.au. Problems may include lessened ability to perform during sexual activities. Sexual problems are classified as serious side effects of the medicine that require a consultation with the doctor immediately.
Mental Difficulties
Also among the serious potential side effects of taking Deralin are changes in mental state, MyDr.com.au reports. The person may, for example, develop mental depression because of the medicine. She also may feel confused about ordinary things such as the date, the time and the place. She may suffer from sensory, auditory or visual hallucinations--meaning she feels, hears or sees things that do not exist. Any changes in the person's mental state require immediate advice from the doctor and may require medical intervention.
Hypoglycemia
While Deralin functions to reduce blood pressure, it can have another effect on the blood. It may cause too little glucose to be retained in the blood to balance with the insulin produced by the pancreas. This produces hypoglycemia, also known as a low blood sugar level. This may result in symptoms including dizziness, bodily weakness, trembling and numbness. A drop in blood sugar and the manifestation of these symptoms indicate a serious health problem. MyDr.com.au advises immediate contact with a physician if any of these signs occur.
Gastric Problems
The use of Deralin may cause adjustment-period side effects in the digestive system, MyDr.com.au reports. This means that these side effects usually only occur while the person's body grows accustomed to having the medication in the system. Deralin can induce queasiness in the stomach that may result in vomiting. It also may cause a loss of appetite, pain in the stomach or an intestinal imbalance that produces diarrhea. These side effects typically cease without the aid of a doctor, but MyDr.com.au suggests talking to a physician if they are severe or prolonged.
Is This an Emergency?
If you are experiencing serious medical symptoms, seek emergency treatment immediately.