Rice Krispies cereal, manufactured by Kellogg's, is a rice-based, low-sugar alternative to many of the higher-sugar kid's cereals available. Rice Krispies is Kosher Parve-certified. For families with food sensitivities and allergies, dry Rice Krispies cereal contains no wheat, soy, milk or nuts.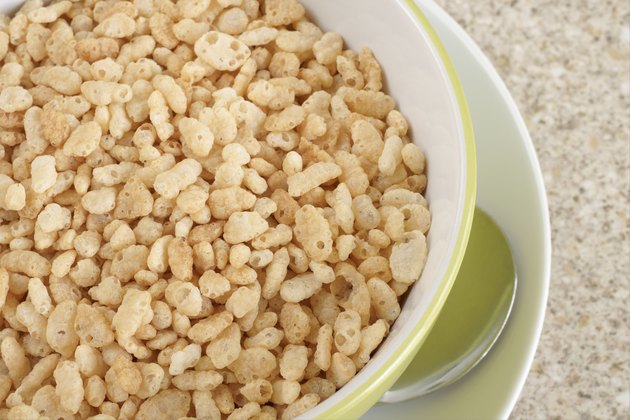 Serving Size, Fat and Calories
A single serving of Rice Krispies is one and one-quarter cups, or 33 g. One serving contains 130 calories with zero calories from fat. Rice Krispies is a fat-free food. It contains zero grams of saturated fat or trans fat.
Cholesterol
Rice Krispies is a naturally cholesterol-free food.
Potassium and Sodium
One serving of Rice Krispies cereal provides 190 mg of sodium and 30 mg of potassium. According to the University of Maryland Medical Center, sodium and potassium are electrolytes which play an important role in fluid balance, pH maintenance and muscle function.
Carbohydrates
Each serving of Rice Krispies contains 29 g of carbohydrates. This includes 1 g of dietary fiber, only 4 g of sugars and 25 g of complex carbohydrates.
Protein
Rice Krispies provides only 2 g of protein per serving. This is 50 percent of the U.S. Food and Drug Administration's Recommended Daily Allowance of protein.
Vitamins and Minerals
Rice Krispies cereal provides 25 percent of the USDA's RDA of vitamin A, vitamin C, vitamin E, thiamin, riboflavin, niacin, vitamin B6, folic acid and vitamin B12 per serving.