The cabbage soup diet has been around a long time because it is an effective short-term weight loss diet. It revolves around a large consumption of cabbage soup every day, based on the premise that cabbage is a negative-calorie ingredient; your body needs more calories to digest the cabbage than it provides. In addition to the ingredients in the soup—cabbage, tomatoes, celery, green onions, green pepper, carrots and mushrooms—various foods are added throughout the seven-day plan. Although generally considered a fad diet, it does have some advantages over other diets.
Nutritious Veggies and Dietary Fiber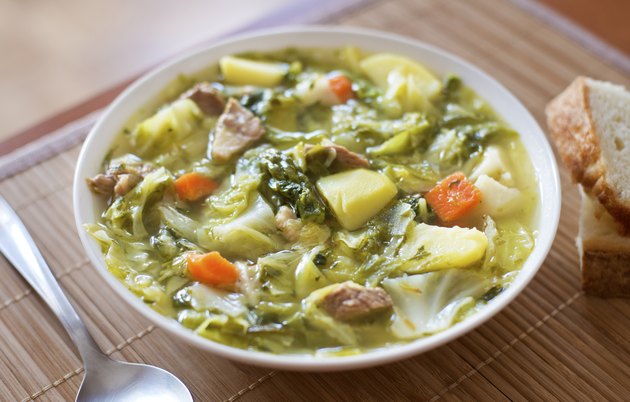 Although not a completely balanced diet, the cabbage soup made for this diet contains a variety of nutritious vegetables and provides more fiber than most diets. Raw cabbage contains 20 calories per 100 g, and supplies 53 percent of the RDA of vitamin C. The added celery and carrots provide vitamin K. Fruit, allowed on most days, provides a source of vitamins A, C and E. Tomatoes are rich in lycopene, a helpful antioxidant. The mushrooms in the soup, and the potato allowed on days two and three, provide B complex vitamins. The meat, included on days five and six, is a source of protein and Vitamin D. The skim milk, allowed on day four, is your source of calcium. In addition, the soup contains plenty of liquid to keep you hydrated.
No Hunger Pains
Because there is no restriction in quantity of the designated food that you can eat, you will not go hungry. The variety of food makes it easier to stick with the diet. There are also some filling ingredients, like potato, rice and bananas, permitted on some days.
Fast Weight Loss
Cabbage soup is very low in saturated fat and has almost no cholesterol. The diet's proponents promise three to five times more weight loss than you would get with other diet in the same period. Individual results vary, but generally, you will lose about 10 pounds in just one week. This can be very appealing if you need to lose weight immediately for a special occasion. The diet might be beneficial in kick-starting your weight loss and may give you the incentive to make the transition to a more nourishing diet or healthier eating as a lifestyle choice.
Inexpensive and Simple
The cabbage soup diet does not require a lot of time in preparation or cooking. There is no measuring or weighing of the inexpensive ingredients; no meal plans, nutritional bars, snacks, shakes, diet pills or appetite suppressants to buy. If you do not have the time to work out every day, there is no exercise routine involved. Unlike most diets, there is no long-term commitment. In fact, you should not remain on the cabbage soup diet for any longer than seven days as it is not designed as a long-term weight loss program.
You should consult your doctor before making any significant changes to your diet.