Muscle problems have many possible causes. Inflammation of the muscle, called myositis, causes muscle weakness and wasting. Several types of drugs are linked to the development of myositis in some people. These include some recreational drugs, antibiotics, chemotherapy drugs, drugs affecting the hormonal system, drugs for cholesterol as well as heart and stomach drugs.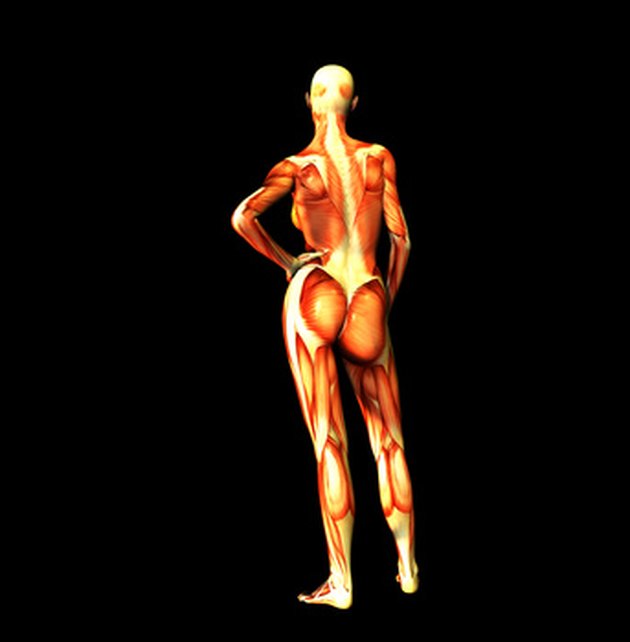 Recreational Drugs
Consumption of some recreational drugs is known to cause muscle problems. Alcoholic myopathy, also known as alcoholic rhabdomyolysis, is a condition in which the skeletal muscle breaks down during an alcohol binge or withdrawal from chronic use. If mild it may cause no symptoms. It can lead to muscle weakness and wasting, and if severe the proteins released from muscle break down into the blood and can damage the kidneys. A binge on cocaine can also cause muscle tissue to break down.
Antibiotic Medications
Antibiotics typically refers to drugs that treat bacterial infections, and antivirals are medications that treat viral infections. Likewise, antiparasitics are drugs that treat parasites. Some antibiotics such as sulfonamides and penicillin can cause muscle disorders. Antivirals such as zidovudine and lamivudine used to treat HIV are offenders, as are antiparasitics such as chloroquine used to treat malaria.
Cancer Drugs
Chemotherapy agents used to treat cancer may cause muscle problems and can also lower blood counts. Colchicine is one such drug. Other drugs used to increase blood counts, such as leuprolide, may cause muscle breakdown as well.
Hormonal Drugs
Some drugs affecting hormones may cause muscular side effects. Corticosteroids such as prednisone are drugs that mimic the stress hormones released by the adrenal glands, and can cause muscle wasting, particularly with long term use. Medications used to lower thyroid hormones, such as methimazole and propylthiouracil also can cause muscle weakness and wasting.
Cholesterol Drugs
Drugs used to lower cholesterol can cause muscle aching, weakness and breakdown. Statins, such as simvastatin are one class known to do this. Gemfibrozil is another.
Heart Drugs
At least one drug used in the treatment of irregular heart rhythms can cause muscle problems. Amiodarone is a very effective drug for treating irregular heart rhythms, but has several side effects in some people, including lung disease, causing an overactive or under-active thyroid, discoloration of the skin, vision changes, liver damage and muscle wasting.
Stomach Drugs
Cimetidine is a drug used to treat acid reflux into the esophagus and high acidity causing inflammation in the stomach. It is also known to potentially cause problems such as diarrhea, constipation, headache, fatigue and muscle wasting.