Purple Haze is a notably potent form of marijuana. Marijuana is the dried and shredded mix of leaves, flowers and other parts of the Cannabis sativa plant, notes MedlinePlus. Purple haze gets its name due to the purple tint of parts of the particular Cannabis sativa plant used to create the product. Marijuana is a popular illegal drug. There are a wide range of side effects associated with the use of Purple Haze or any type of marijuana.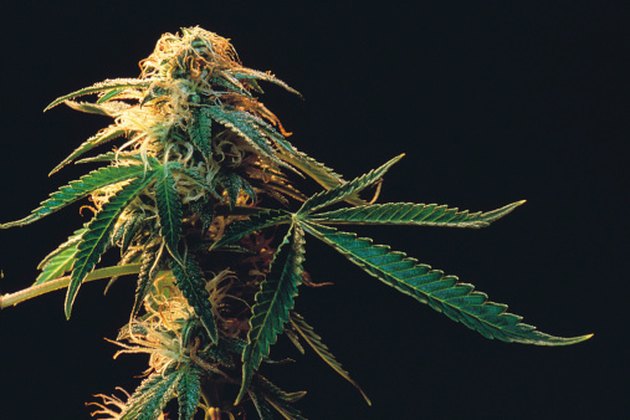 Learning Problems
Purple Haze use can cause learning problems, notes MedlinePlus. Marijuana use impacts the brain and can cause problems retaining information. It also damages the ability to focus on academic issues. The National Institute on Drug Abuse reports that marijuana's negative effect on learning can last for days or weeks. If marijuana is used daily, intellectual ability will typically be below normal at all times.
Addiction
Addiction can occur with long-term use of Purple Haze and other types of marijuana, notes the National Institute on Drug Abuse. The dopamine neurons in the brain are impacted by marijuana use. Withdrawal from the drug will thus lead to stress, problems sleeping and craving the drug.
Depression and Suicide
Depression, suicide ideation, and schizophrenia are linked to Purple Haze use, as with all kinds of marijuana, notes the National Institute on Drug Abuse. It is not yet fully known whether marijuana use causes these problems or is symptom of their existence. If drug abuse is started at an early age it can lead to more severe problems with these issues as time passes.
Heart Disorders
Purple Haze use can speed up the pace of the heart. Marijuana use can cause the heart rate to accelerate to 20 to 100 percent higher than normal for about three hours, reports the National Institute on Drug Abuse. This accelerated heart rate can lead to a higher risk of heart attack and heart arrhythmias.
Decreased Social Interaction
Social interaction can become impaired due to Purple Haze use, notes the National Institute on Drug Abuse. Drug use can make social interaction seem less important as the brain becomes addicted and wishes to focus on drug seeking activities rather than normal social activities. Ongoing marijuana use can lead to diminished pleasure in developing relationships and more emphasis on spending time only with other drug users.
Lung Inflammation
Purple Haze use can inflame the lungs and also cause respiratory illness. Marijuana smoke contains carcinogens. The National Institute on Drug Abuse reports that the smoke from marijuana has 50 to 70 percent more carcinogenic hydrocarbons than the smoke from cigarettes.