You have a lot of zero-carb foods to choose from on a low-carb diet. All of the major proteins -- meat, poultry and fish -- are naturally free of carbs and sugar. A variety of oils, vinegars and seasonings are also on the carb-free list. But there are some exceptions. Each food category includes items you'll need to avoid when shooting for zero-carbs.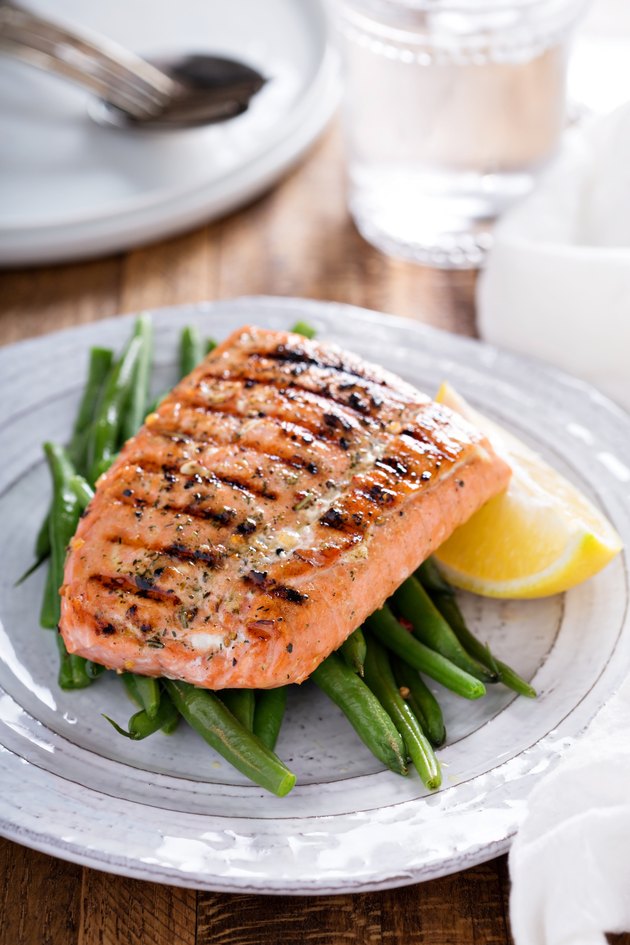 Carb-Free Meat and Poultry
You won't get any carbs or sugar from beef, pork, lamb, turkey and chicken -- as long as you stick with natural meat. They gain carbs when they're breaded, marinated or injected with solutions designed to tenderize and add flavor. For example, a serving of teriyaki-flavored pork tenderloin has 5 grams of net carbs -- total carbs minus fiber -- including 4 grams of sugar.
Most cured and processed products, such as bacon and bologna, contain a small amount of carbs. You'll also get varying amounts of carbs from organ meats. For example, a 4-ounce serving of beef liver contains 4 grams of net carbs, while chicken livers have 1 gram.
While low-carb diets often don't restrict fat, you'll get less saturated fat and fewer calories from lean meat. Flank steak, sirloin tip, top round, tenderloin, top loin, rump roast and extra lean ground beef are all lean cuts of beef. For pork, choose center loin, tenderloin and Canadian bacon, which comes from the loin. The leanest poultry is white meat without the skin.
Zero-Carb Fish
In addition to being naturally free of carbs and sugar, fish has a nutritional benefit you won't get from other proteins: it's one of the best sources of omega-3 fatty acids. These fats help prevent heart problems and lower blood levels of triglycerides. For this reason, the American Heart Association recommends eating two servings weekly, especially fatty fish like salmon, trout and tuna.
The good news is that most types of fish have absolutely zero carbs, including cod, flounder, sole, tuna, trout, salmon, bass and halibut. Shellfish are sugar free, but net carbs can range from zero in Alaskan king crab and 1 gram in shrimp, to 4 grams in a serving of clams. Of course, you'll have to avoid breaded fish and crab cakes so you don't get carbs from breading.
Fats, Oils and Vinegars Without Carbs or Sugar
Pure fat and vegetable oils are free of all carbs. This includes butter, margarine, and all types of vegetable oil. Vegetable oils are packed with healthy unsaturated fats, which help lower cholesterol. Corn, soybean, safflower and sunflower oils are good choices because they're higher in polyunsaturated fats that boost high-density lipoproteins, or good cholesterol.
If you want zero-carb vinegar, stick with cider vinegar, red wine vinegar, white vinegar and unsweetened rice vinegar. Seasoned rice vinegar has 6 grams of net carbs per tablespoon, while balsamic vinegar has 3 grams. Other varieties have about 1 gram.
Mix salad dressings at home by blending one of the zero-carb vinegars with vegetable oil. Commercially prepared salad dressings have 1 to 5 grams of net carbs, but you can find some sugar-free brands.
Beverages, Spices and Gelatin Without Carbs
Unflavored gelatin is a high-protein, zero-carb item that's handy on a low-carb diet. Let gelatin dissolve in hot water or broth, then use it in place of flour to thicken sauces. It also helps moisten and bind meatloaf and meatballs.
Whether you prefer water, tea, coffee, soda or other beverages, be sure they're either unsweetened or sweetened with stevia, xylitol, erythritol or saccharin. Other types of artificial sweeteners may contain a small amount of carbs. Be careful with vitamin water; some brands are high in carbs. Hard liquor like gin, vodka and scotch doesn't have carbs, but you'll get carbs and sometimes sugar from wine and beer.
The Atkins Carb Counter lists more than 20 herbs and spices with zero net carbs and even more with barely a trace of carbs. You'll find basil, chili powder, curry powder, garlic salt, lemon-pepper and Italian seasoning among those without any carbs.