Asthmatics use inhaled corticosteroid inhalers, sometimes daily, to reduce inflammation and swelling in the airways. While inhaled corticosteroids don't have as many negative side effects as oral or injected corticosteroids, if high doses are long-term, a small amount is systemically absorbed and can cause side effects, some severe.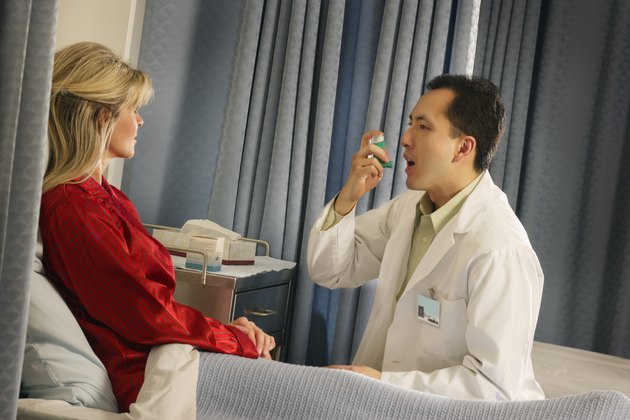 Adrenal Gland Suppression
Rarely, taking corticosteroids and then stopping them or lowering the dosage can cause secondary adrenal gland suppression. Corticosteroids block the release of two hormones instrumental to release of cortisol, a natural steroid that helps the body respond to stress made by the adrenal glands. Over time, the adrenal glands shrink. When corticosteroids are withdrawn, the adrenal glands can't make enough cortisol to supply the body's needs, the National Institute of Diabetes and Digestive and Kidney Disorders states.
Cortisol also maintains cardiovascular function, slows the immune response, maintains glucose levels in the body and regulates fat, carbohydrate and protein metabolism. Without it, symptoms of adrenal insufficiency occur, which include fatigue, muscle weakness, loss of appetite and weight loss. A sudden worsening, called an adrenal crisis, can cause low blood pressure, severe back, abdominal and lower legs and loss of consciousness. Fatalities can occur from adrenal crisis, the NIDDK warns.
Bone Thinning
Studies have been inconclusive on whether inhaled steroids cause bone thinning, Consumer Reports states. High doses of inhaled steroids taken long-term, however, may decrease bone density, which increases the chance of bone fractures. People older than age 50 should have regular bone density scans and take calcium and vitamin D supplements.
Oral Effects
When steroids are inhaled, a small amount may enter the mouth and throat. Side effects in the oral cavity include hoarseness, sore throat and dry mouth. Yeast infection known as thrush may develop from suppression of normal bacteria and overgrowth of yeast. Cough may also occur. Rinsing the mouth right after using the inhaler helps decrease symptoms, MayoClinic.com explains.
Skin Symptoms
Inhaled corticosteroids can cause skin to become thinner and to bruise more easily than normal.