Acids are categorized by having a pH level below 7 on a 0 to 14 scale. Acids also have a sour taste, can carry an electric current and react with metals to produce hydrogen atoms. Many fruits, vegetables and dairy products contain some type of acid. Some of these acids provide nutrients or help alleviate certain ailments.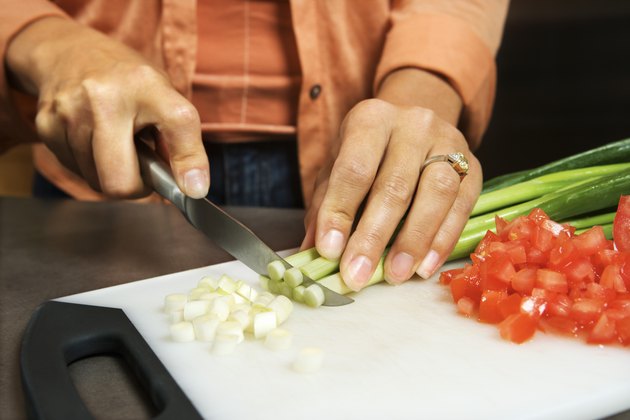 Citric Acid
A natural preservative, citric acid is found primarily in citrus fruits; it provides the sour taste in lemons and limes. Citric acid can be beneficial for those who have kidney stones by inhibiting stone formation and breaking down smaller stones that have formed. Aside from citrus fruits, citric acid can also be found in berries, tomatoes and pineapples.
Malic Acid
Known as apple acid because high levels of it are found in apples, malic acid can also be found in bananas, berries, tomatoes, broccoli and rhubarb. People who have fibromyalgia and chronic fatigue syndrome sometimes use malic acid as a way to reduce muscle soreness and increase energy levels.
Oxalic Acid
Oxalic acid, or oxalate, is primarily found in leafy green vegetables, rhubarb and beets. Research on whether people who have calcium oxalate kidney stones should avoid these high-oxalate foods is inconclusive. Limiting high-oxalate foods can prevent further development of kidney stones, but the many nutritional benefits these food offer may outweigh the potential risk of stone formation. Consult with a physician to decide whether you need to limit your intake of these foods.
Lactic Acid
Many dairy products use bacterial fermentation to achieve distinct characteristics and flavor. Lactic acid is a product of this fermentation, and it can be found in yogurt, cottage cheese, buttermilk and sour cream. Consuming lactic acid can aid in the digestion of lactose, or milk sugar; prevent and treat diarrhea; and help fight infection.
Ascorbic Acid
Ascorbic acid, otherwise known as vitamin C, can be found in a variety of fruits and vegetables. Your body needs vitamin C to grow and repair tissues, heal wounds and maintain the strength of bones and teeth. Low levels of vitamin C are associated with high blood pressure, stroke and some forms of cancer. Sources of ascorbic acid include citrus fruits, berries, leafy green vegetables, tomatoes and green peppers.