Cold sores, sometimes known as fever blisters, appear around the mouth, on the lips or on the gums. Highly contagious, cold sores are a common medical condition caused by a virus in the herpes family. The first symptoms of a cold sore include tingling, itching and burning. Within 12 hours, small fluid-filled blisters appear that eventually increase in size and rupture. Many over-the-counter medications exist to help soothe the accompanying pain and itching, and a few home remedies may also help. In most cases, cold sores clear up on their own within a few weeks with home treatment.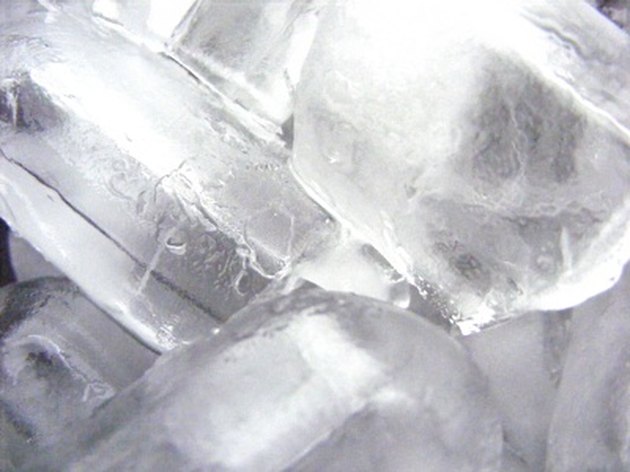 Step 1
Apply over-the-counter antiviral cream to help reduce pain and expedite healing of cold sores. The University of Texas at Austin recommends using antiviral cream at the first sign of a cold sore, or at least within 24 hours of the onset of symptoms for the best results.
Step 2
Hold an ice cube over the cold sore for five to 10 minutes once an hour during the tingling phase of a cold sore. This numbs the area and slows the development of the cold sore by decreasing blood flow, according to The University of Wisconsin Madison.
Step 3
Apply zinc oxide ointment directly to your cold sore to help reduce pain and itching. UHS University Health Services recommends applying the ointment only after a crust has formed over the sore. Applying before a crust forms may increase the time it takes to heal.
Step 4
Dip a cotton ball in vitamin E oil and place over cold sores. Hold in place for 15 minutes. Repeat with a fresh cotton ball once every three hours. According to the University of Michigan Health System, this treatment will help soothe cold sore pain and speed healing.
Step 5
Use a topical anesthetic containing benzocaine, lidocaine or tetracaine, typically available over-the-counter in gel or cream form. The University of Arizona Health Pharmacy reports that these substances provide quick relief of itching and pain caused by cold sores.
Things You'll Need
Antiviral cream

Zinc oxide ointment

Cotton ball

Vitamin E oil

Topical anesthetic
Tip
Purchase over-the-counter antiviral cream formulated for use on cold sores, zinc oxide ointment, vitamin E oil and topical anesthetics at your local drug store.
Warning
Consult a doctor immediately if you experience a cold sore accompanied by pain that prevents eating or drinking, swelling, eye irritation, pus coming from the sore, a fever over 100 degrees F, or if your cold sore does not heal within two weeks.
Do not rub or scratch your cold sore, as this can lead to infection. Use a cotton swab to apply medication to prevent rupturing the sore.
Avoid spicy and salty foods, which can cause pain when they come into contact with a cold sore.