The nerve networks in the body are divided into two major nervous systems: the central nervous system and the peripheral nervous system. The central nervous system consists of the brain and spinal cord, and the peripheral nervous system consists of the nerve networks outside of the brain and spinal cord. Nerves are responsible for providing sensation to all areas of the body. Conditions that affect normal nerve signaling can cause numbness in the extremities.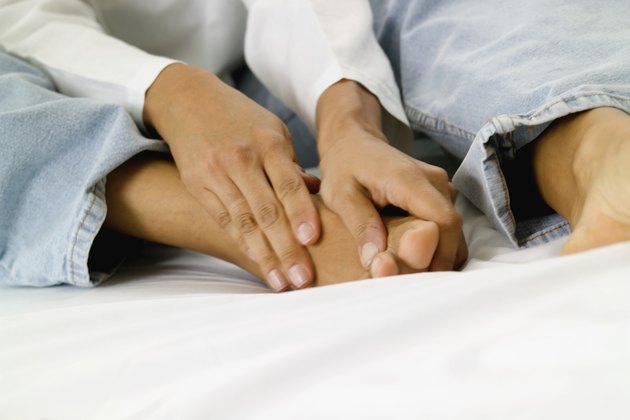 B12 Deficiency
Vitamin B12 is a water-soluble vitamin that is important for proper metabolism, as well as formation of red blood cells and maintaining proper function of the central nervous system. When there is not enough B12 in the body, red blood cells cannot form properly. The lack of red blood cells due to a B12 deficiency is called pernicious anemia. A B12 deficiency may develop as a result of a diet low in B12 or diseases that cause an inability to absorb B12, such as alcoholism, Crohn's disease and celiac disease. Initial symptoms of a vitamin B12 deficiency include diarrhea, fatigue, lack of energy, loss of appetite, pale skin, difficulty concentrating and shortness of breath. As the deficiency worsens, nerves become damaged, which causes confusion, depression, and numbness and tingling in the hands and feet.
Herniated Disk
The spine is composed of a column of bones called vertebrae, which are cushioned by small pads of cartilage called disks. These disks absorb shock and allow the spine to move. Disks have two layers: an inside layer, called the nucleus, and an outside layer, called the annulus. A herniated disk is a condition that occurs when the nucleus pushes out through the annulus and compresses one of the nerve roots in the spinal column. When the nerve is compressed, it can cause pain that begins in the back and travels down the length of the leg. Numbness and weakness may also develop in the limbs, extremities, shoulder, neck and chest. A disk usually becomes herniated as a result of degeneration of the disks due to the aging process, according to MayoClinic.com. Other causes include improper heavy lifting or physical injury.
Transient Ischemic Attack
A transient ischemic attack occurs when blood flow through an artery is temporarily blocked by a blood clot, stopping blood flow to the brain. A transient ischemic attack is similar to a stroke, but unlike a stroke, it does not cause any permanent symptoms. One of the most common symptoms of a transient ischemic attack is sudden numbness and weakness in the face, limbs and extremities, usually on only one side of the body. Other symptoms include sudden confusion, difficulty speaking, trouble understanding others, dizziness, loss of balance and sudden headache. According to the American Heart Association, one-third of people who have had a transient ischemic attack will have a full stroke later in life, so it is important to seek treatment if a transient ischemic attack occurs.
Is This an Emergency?
If you are experiencing serious medical symptoms, seek emergency treatment immediately.