Prescription medications often come in a variety of forms and strengths, so they can have a number of different names. Augmentin 625 mg is the brand name for a pill containing 500 mg of amoxicillin and 125 mg of clavulanic acid. It is a commonly prescribed antibiotic. Augmentin 625 mg is available in Europe. In the United States, the same amoxicillin and clavulanic acid combination is sold under the brand name Augmentin 500 mg, according to prescribing information approved by the Food and Drug Administration (FDA). Augmentin 625 mg is the strength used by teenagers and adults.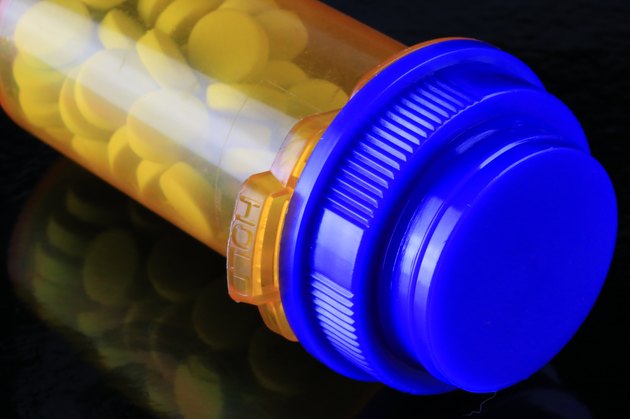 How Augmentin Works
Both components of Augmentin have specific functions. Amoxicillin is a member of the penicillin family of medications, known as beta-lactams. All beta-lactams fight infections by killing certain bacteria. They do this by destroying the bacteria's cell wall.
In Augmentin, clavulanic acid is added to increase the effectiveness of amoxicillin. Many bacteria produce an enzyme called beta-lactamase, which destroys all beta-lactam antibiotics. Clavulanic acid breaks down beta-lactamase, allowing amoxicillin to escape destruction.
Common Uses for Augmentin
Amoxicillin is effective against a number of bacteria, but it does not work against bacteria that make beta-lactamase. Because of the addition of clavulanic acid, Augmentin is also effective against bacteria that make this enzyme.
Augmentin is often used to treat ear infections, sinus infections, bladder or kidney infections, skin infections and respiratory infections, such as bronchitis. As explained in the FDA-approved prescribing information, Augmentin is particularly useful when these infections are caused by bacteria that make beta-lactamase, such as certain types of Hemophilus influenzae, Moraxella catarrhalis, Escherichia coli and Staphylococcus aureus.
When Augmentin Should Not Be Used
There are 2 main situations, called contraindications, when Augmentin should not be used, according to the FDA-approved prescribing information. It should be avoided in people allergic to amoxicillin or any other member of the penicillin family, such as penicillin, ampicillin, methicillin, cloxacillin, piperacillin or ticarcillin. It should also not be used if liver problems occurred when Augmentin was taken in the past for a previous infection.
Side Effects of Augmentin
Most side effects of Augmentin are mild and temporary. The most common are nausea, vomiting, mild to moderate diarrhea, abdominal discomfort, mild skin rashes and headaches. Yeast infections of the mouth, called thrush, or vagina are also fairly common. Thrush typically produces white patches in the mouth, whereas vaginal yeast infections produce itching and a vaginal discharge.
Much less commonly, Augmentin may cause liver damage, resulting in dark urine and yellowish skin or eyes. It may also reduce the number of cells in the blood, including red blood cells, white blood cells and platelets. This can produce various symptoms, such as paleness, tiredness, frequent infections, easy bruising or prolonged bleeding.
Rarely, severe allergic reactions occur with Augmentin. These reactions are characterized by hives, other rashes, itching, swelling, trouble breathing, dizziness or fainting. Very severe diarrhea -- known as pseudomembranous colitis or antibiotic-associated diarrhea -- may occur with any almost antibiotic taken by mouth, including Augmentin.
Warnings and Precautions
If you are prescribed Augmentin, tell your doctor about all other medications you are taking. Augmentin can interact with some medications, including probenecid and allopurinol. It may also reduce the effectiveness of oral contraceptive pills, according to the FDA-approved prescribing information.
Augmentin does not appear to cause harm to the baby when taken by a pregnant women. But this issue has not been well studied in humans, so the prescribing information recommends that this antibiotic be used in pregnant women only when definitely needed. It also recommends that Augmentin be used with caution in women who are breastfeeding. A small amount of Augmentin will enter the breast milk, but it is not known whether this will be harmful to the baby.
Contact your doctor if your infection does not improve after a couple days of treatment with Augmentin. Also contact your doctor if you have any symptoms that you think may be side effects of Augmentin. Seek immediate medical care if you notice any symptoms of a severe allergic reaction.
Reviewed and revised by Mary D. Daley, M.D.