Advil is produced in tablets, caplets and gel caps. While Advil is available without a prescription, it can have serious side effects, including a drug interaction with aspirin that reduces aspirin's efficacy as treatment for heart attack or stroke. Always ask a medical professional before taking Advil when you are pregnant or breastfeeding, especially during the last three months of pregnancy, and keep Advil out of children's reach at all times.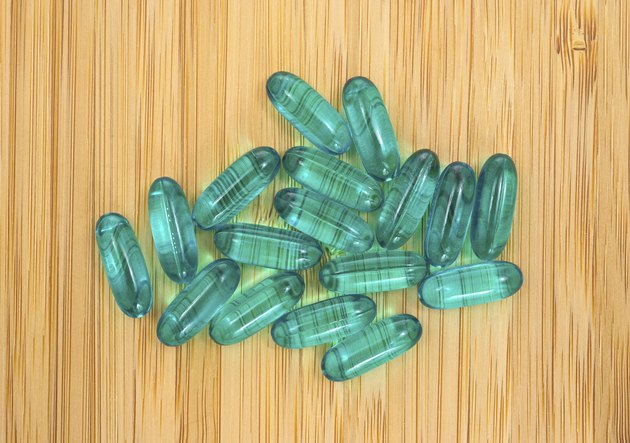 Ibuprofen
The active ingredient in each tablet or caplet of Advil is 200mg of Ibuprofen, a nonsteroidal anti-inflammatory drug meant to reduce pain, fever and inflammation. Some people, especially those allergic to aspirin, may be allergic to Ibuprofen. Symptoms of an allergic reaction may include hives, facial swelling, wheezing, red skin, rash, blisters or shock; if you note any of these symptoms, don't take any more Advil or other products containing Ibuprofen and get medical help immediately.
NSAIDs like Advil may also cause severe stomach bleeding, especially if you're 60 or older, have stomach ulcers or other bleeding problems, take blood thinners or drink three or more alcoholic drinks per day. Signs of stomach bleeding include feeling faint, bloody vomit or stools or black stools, and persistent stomach pain. You should stop using Ibuprofen and seek medical help right away if you experience any of these symptoms or your pain gets worse and lasts more than 10 days, your fever worsens or lasts longer than three days, or you develop redness, swelling or other new symptoms in the affected area.
Tablets and Caplets
The inactive ingredients in Advil tablets and caplets, as noted on late 2009 product labeling, are: Acetylated monoglycerides, colloidal silicon dioxide, cornstarch, croscarmellose sodium, methylparaben, microcrystalline cellulose, pharmaceutical glaze, pharmaceutical ink, povidone, pregelatinized starch, propylparaben, sodium benzoate, sodium lauryl sulfate, stearic acid, sucrose, synthetic iron oxide, titanium dioxide and white wax.
Gel Caps
Advil gel caps have a slightly different set of inactive ingredients than the tablets and caplets. They are, as noted on the late 2009 labeling: Colloidal silicon dioxide, cornstarch, croscarmellose sodium, FD&C red No. 40, FD&C yellow No. 6, fractionated coconut oil, gelatin, glycerin, hypromellose, pharmaceutical ink, pregelatinized starch, propyl gallate, purified water, sodium lauryl sulfate, stearic acid, synthetic iron oxides, titanium dioxide and triacetin.