Food, supplements and medications are all capable of causing side effects. In the case of cream of tartar, a common item used in cooking, you don't have to worry much about food sources. Side effects are unlikely when consumed in typical amounts found in food. However, taking it as a natural remedy may cause side effects that range from mild to life-threatening. Talk to your doctor before taking cream of tartar.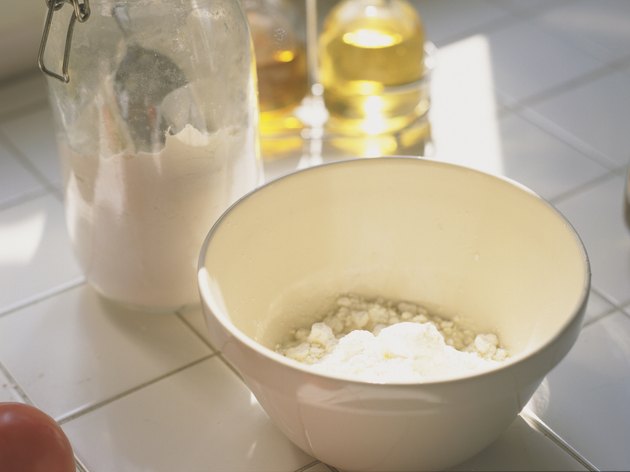 How It's Used
Cream of tartar has a variety of culinary uses, including preventing sugar from crystallizing in whipped dessert toppings and stabilizing egg whites in meringues. The amount used is small, for example 1/8 teaspoon per egg white for meringues, and not a cause for concern. It's the use as alternative medicine that brings with it the risk of side effects. Cream of tartar is used as a natural remedy for various purposes, including to remove toxins, according to an article published in the March 2013 issue of the Journal of Medical Toxicology.
High Potassium
Cream of tartar is composed of potassium bitartrate, a byproduct of wine production. Because of its high potassium content, taking large amounts as a natural remedy may result in higher-than-normal potassium levels. Your body works to keep electrolytes like potassium in balance, and any disruption has a negative impact.
The Journal of Medical Toxicology published two case reports where using cream of tartar as a natural remedy resulted in life-threateningly high potassium levels. Potassium plays a role in regulating your heartbeat, so high levels can cause your heart to beat too fast or even stop. Taking cream of tartar may not be safe for people with kidney problems who typically require a potassium-restricted diet.
Increases Water Loss
Cream of tartar has a diuretic effect, meaning it increases the amount of water your body excretes. People take cream of tartar as a natural remedy for edema, a condition where fluid is trapped in your tissues. If you're using cream of tartar for purposes other than edema, this side effect may be undesirable. Losing too much fluid may cause dehydration or electrolyte imbalance.
Has a Laxative Effect
Some people may take cream of tartar as a natural remedy for constipation. If you're taking it for this purpose, avoid using it long term, as overuse of any laxative may have negative effects on bowel health. Excessive use of laxatives may also cause dehydration. Cream of tartar replaces some of the potassium you lose, but it does not replace other crucial electrolytes, which may contribute to an electrolyte imbalance.