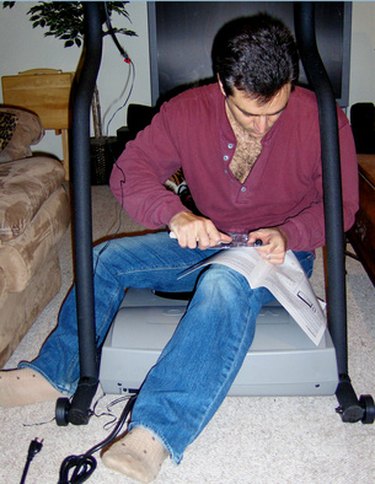 When you take a walk or go for a run, you probably track the distance covered. This is a practical way to measure progress over time. Most treadmills provide feedback about your workout including distance traveled. The distance data can be set to either English or metric measurements. If your treadmill displays distance in the metric system, kilometers per hour, you can switch it to display miles per hour. Instructions vary depending on the make and model of your machine.
Keys Fitness and Ironman Treadmills
Step 1
Turn the treadmill off. Do not unplug the machine and make sure the magnetic safety key is inserted in the console.
Step 2
Locate the calibration cutout on the underside of the console.
Step 3
Insert a Q-tip or end of a pen into the recess to activate the switch. "CL11" should appear in the time window on the display.
Step 4
Press the speed "+" or "-" key to select mph.
Step 5
Press the power key to save your setting.
Precor Treadmill
Step 1
Turn on your treadmill. The following start-up prompt should display: "PRESS ENTER TO BEGIN OR PRESS QUICKSTART."
Step 2
Press the following keys in sequence: "Stop," "Speed -," "Speed +" and "Quickstart." If you do not press these keys within 4 seconds of each other, the display will revert to the start-up screen.
Step 3
Select mph or the English measurement system by pressing any up or down arrow key. The options will display on the right-hand side of the console.
Step 4
Press "Enter" to save your selection.
ProForm Treadmill
Step 1
Hold down the "Stop" button, insert the safety key into the console and release the "Stop" button.
Step 2
Press the speed increase button to choose mph. An "E" will display representing English measurements.
Step 3
Remove the key from the console to exit the information mode.
Tip
Consult your owner's manual or your manufacturer for detailed instructions. Icon Fitness manufactures ProForm, NordicTrack, Reebok, Weslo, Gold's Gym, Weider, Freemotion and Epic treadmills. If you own any of these brands, the instructions for the ProForm treadmill may work on your unit.
Warning
Do not insert any metal object into the calibration recess.