A TENS machine -- trancutaneous electrical nerve stimulator machine -- overrides pain receptors in the brain. When used properly, side effects of TENS machines are generally mild, even with extended use. If you experience these negative effects with use of your TENS unit, discontinue use and see your health care provider.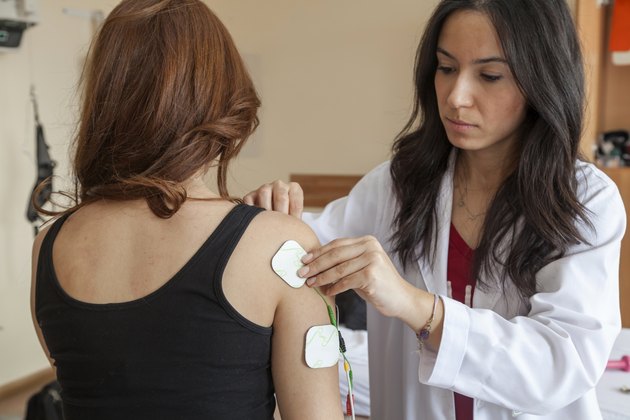 Pain
The constant pulsing of electrical stimulation from the TENS machine can cause pain and muscle twitching, particularly if you adjust the intensity too high. This may also cause muscle soreness. Lower the intensity until you feel a strong tingling sensation -- without muscle twitching -- if this occurs.
Skin Irritation
TENS units are recommended for long-term use, but the pads should be periodically removed to assess your skin. Cleaning your skin before you apply the pads will help the pads stick and appropriately disperse the current in the area underneath the pads, decreasing your risk of skin irritation. Periodically changing the position of the pads will also help protect your skin.
Warnings
Talk to your doctor before using a TENS if you are pregnant -- the effects of the vibrating impulse on the unborn fetus are unknown. Do not sleep with your TENS unit on, submerge it in water or wear it while driving. TENS machines should not be used on the skin near the eyes, temples or across the head, or if you have a pacemaker.