Transcutaneous electrical nerve stimulation -- TENS -- machines are a common form of pain relief, especially for musculoskeletal pain. These machines send a small electrical current to pads placed on the skin, resulting in the activation of nerves under the skin.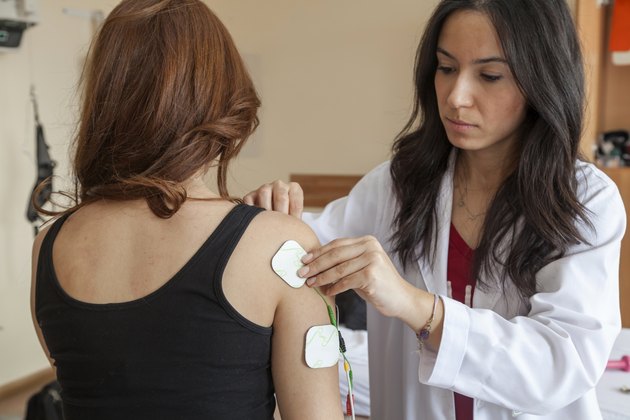 The exact way that TENS controls pain is unknown. A review article published in the December 2017 issue of "Joint Bone Spine" indicates that there are 2 main theories, both of which may be correct. One is that when the spinal cord receives messages from the nerves activated by the TENS current, these messages override the messages received from the nerves carrying pain sensation. Another theory is that electrical stimulation causes the release of natural painkillers, such as endorphins, within the body.
When used properly, any side effects that occur with TENS machines are minor. Mild muscle soreness and skin irritation may occur with excessive use. If you experience any negative effects while using your TENS unit, discontinue it and contact your health care provider.
Pain
Electrical stimulation from a TENS machine can cause pain and twitching in the underlying muscles if you adjust the intensity too high. Lower the intensity until you feel just a strong tingling sensation, without muscle twitching. Prolonged use, even at lower intensity levels, may occasionally cause mild muscle soreness. For this reason, it is usually recommended that a TENS machine not be used for more than a few hours at a time.
Skin Irritation
TENS machines may cause mild skin irritation under the pads, producing redness and slight pain. This is most common with prolonged use, so the pads should be periodically removed to assess your skin. Changing the position of the pads during these checks will help reduce the possibility of skin irritation. Cleaning your skin before you apply the pads will help the pads stick and appropriately disperse the current in the entire area under the pads, so less current is directed at a specific spot. This will also decrease the chances of skin irritation.
Warnings and Precautions
Like all electrical devices, TENS machines should never be submerged in water. They should also not be worn while driving, as they can be distracting. Do not use a TENS machine while sleeping at night, as this would be considered a prolonged time and you would be unable to feel whether skin irritation or muscle soreness is developing.
If you have a pacemaker or implantable defibrillator, only use a TENS machine if approved by your cardiologist, as the current may interfere with the function of these devices. TENS also should not be used if you have uncontrolled epilepsy, to avoid triggering a seizure.
TENS can be an effective form of pain relief for labor. But it is generally not recommended for use at other times during pregnancy because of its unknown effects on the unborn baby. However, a 2012 report from the Association of Chartered Physiotherapists in Women's Health noted that no negative effects on the fetus have ever been reported with using TENS during pregnancy. The report also stated that strong painkiller medications can be harmful to a fetus, so TENS may be preferable to these drugs. If you are pregnant, only use a TENS machine if approved by your doctor.
Reviewed by Mary D. Daley, M.D.