Extenze is a popular supplement for male enhancement. The manufacturer, Biotab Nutraceuticals, offers some very ambitious marketing claims. Examining these claims, the ingredients, Biotab's clinical trial and anecdotal results from actual users should provide you with all the information you need to make an informed decision regarding the use of Extenze.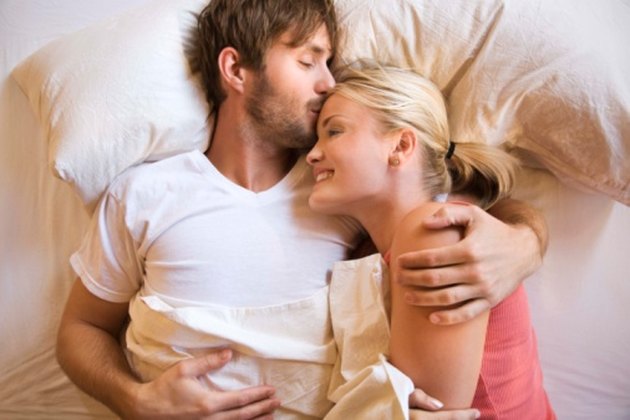 Extenze Claims
The Extenze website makes many claims of male enhancement. The manufacturer claims a 98 percent success rate, and vague descriptions, such as men having more faith and confidence in their sexual performance, dominate its marketing. The guidelines and testimonials recommend eight continuous weeks of use to achieve optimal results. Extenze claims to intensify sexual experience, increase blood flow and penis size and girth, as well as offer help for erectile dysfunction. The product is said to be "doctor approved" and "clinically tested." The ingredients are said to be designed from the same research that created Viagra, only with no side effects. Extenze offers a 100 percent money back guarantee.
Mechanisms of Action
As far as male enhancement products go, Extenze is more of the same. The product is basically a combination of both proven and unproven ingredients that boost testosterone, increase blood flow via nitric oxide, or are natural aphrodisiacs that work by unknown means. Tribulus terrestris, DHEA, pregnenalone, deer antler extract and GABA may help to enhance testosterone and growth hormone for a sex hormone boost. L-Arginine, horny goat weed and yohimbe have been shown to increase blood flow. Though lacking scientific proof, muira puama, ho shou wu, damiana and ginseng are time-tested traditional treatments for sexual function.
Extenze Study
Extenze claims to have performed a clinical trial with 50 men over 3 months. Dr. Daniel S. Stein of the Stein Medical Institute, a cosmetic surgery practice in Florida, presided over this study. Though very few actual details are given about the study, they do indicate that one person gained 1.5 inches in penis girth and 1.7 inches in length. Eighty percent of the men confirmed a visibly noticeable enhancement, with no side effects. They even have some before and after pictures, though they are not for the faint of heart. It is highly unusual for a clinical trial to report no adverse effects at all. Even vitamin C can have side effects for some people.
Actual Users
Despite the testimonials and glossed over details of their clinical trial, it is difficult to find one user review on the Internet that is positive. Extenze has created several different websites that, at first glance, seem like third parties. However, they all link back to Extenze's own website. Not only do users on Amazon.com report several side effects, they also unanimously concur that very few, if any, positive effects were seen with Extenze supplementation. There is little if any good word of mouth about Extenze, with the exception of their own website.
Miracle, or Scam?
Hundreds of dissatisfied customers have reported Extenze for unauthorized credit card payments, false advertisement, and difficulty cancelling orders and/or receiving refunds. The For Real Men Only blog reports that in 2006, Biotab Nutraceuticals had to pay out $300,000 in penalties due to a lawsuit. They were unable to prove their marketing claim that Extenze caused a 27 percent increase in penis size. In addition, Extenze was found to contain lead in amounts that were over the legal limit. Even without the lead toxicity, this product could cause many side effects. The hormones pregnenolone and DHEA could cause severe side effects from hormonal imbalance. Moreover, the large dosage of yohimbe could also have severe adverse effects for those with heart disease, such as high blood pressure and heart palpitations.