Whether you have a cough due to a cold, the flu, allergies or dry winter air, the array of cough medicine options can be confusing. Upper-respiratory infections, like a cold or the flu, are the most common cause of cough. Respiratory infections are believed to cause coughing due to post-nasal drip and inflammation, which irritate upper airway nerves and trigger the cough response. Over-the-counter (OTC) cough medicines don't speed recovery from a cold or the flu but might reduce coughing. Understanding the differences among antihistamines, decongestants, expectorants, suppressants and combination formulas can help you select an OTC cough medicine. Prescription cough medicines are reserved for long-term respiratory ailments, such as chronic bronchitis.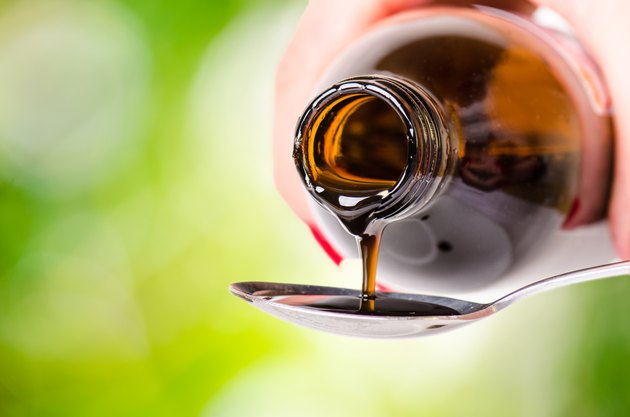 Antihistamines
Certain types of antihistamines are one of the first lines of defense for taming a cold-related cough. How antihistamines suppress cough isn't completely clear. Medications known as first-generation antihistamines penetrate the brain and have a sedating effect that may be related to their ability to suppress cough. They might also act on brain pathways that limit mucus secretion. First-generation antihistamines include: -- Diphenhydramine (Benadryl). -- Chlorpheniramine (Chlor-Trimeton). -- Brompheniramine (J-Tan). -- Dexbrompheniramine (PediaVent, Ala Hist IR). Newer, nondrowsy antihistamines, such as loratadine (Claritin), cetirizine (Zyrtec) and fexofenadine (Allegra), are not effective in suppressing coughs because they do not penetrate the brain.
Decongestants
Decongestants constrict nasal blood vessels, thereby reducing mucus production and post-nasal drip that can stimulate coughing. They might also suppress the cough reflex, particularly when combined with an antihistamine. Pseudoephedrine (Sudafed, Nexafed) and phenylephrine (Sudafed PE) are the most common decongestants in OTC cough and cold medicines.
American College of Chest Physicians practice guidelines state that a first-generation antihistamine plus a decongestant can be used to treat coughs due to colds. This recommendation is supported by a February 2012 "Cochrane Database of Systematic Reviews" report on 27 studies that examined the effectiveness of OTC cold medicines. The authors concluded antihistamine-decongestant combinations are most effective, but they often cause side effects that should be taken into consideration. Examples of these combination medicines include: - Pseudoephedrine, brompheniramine (BroveX PSB). - Pseudoephedrine, chlorpheniramine (Pseudoephedrine Plus). - Phenylephrine, chlorpheniramine (Cold and Allergy). - Phenylephrine, brompheniramine (Children's Cold and Allergy).
Expectorants
Expectorants thin out mucus, making it less sticky and easier to clear from the airways. The only OTC expectorant available in the United States is guaifenesin (Mucinex, Tussin, Robafen). A November 2014 "Cochrane Database of Systematic Reviews" article examined 3 studies that compared guaifenesin to an inactive substance, or placebo. One study found guaifenesin was significantly better at reducing cough frequency and intensity. A second study concluded guaifenesin was effective at thinning mucus but was not better than placebo for reducing cough frequency. The third study found significantly more improvement in cough-related symptoms with guaifenesin at day 4 of a cold, but there was no difference from those taking placebo at day 7, when cold symptoms have often resolved. A June 2009 "Respiratory Medicine" study report stated that guaifenesin plus the prescription cough suppressant benzonatate (Tessalon) was more effective than either drug alone. Prescription expectorants, such as acetylcysteine, potassium iodide (SSKI) and dornase alfa (Pulmozyme), are used to treat serious long-term respiratory conditions such as chronic obstructive pulmonary disease and cystic fibrosis.
Cough Suppressants
Most cough suppressants quell the cough reflex by acting on the cough center in the brain. Dextromethorphan (Creomulsion, Delsym, Robitussin) is the most common cough suppressant found in OTC cough medicines. The November 2014 "Cochrane Database of Systematic Reviews" article examined 3 studies that compared dextromethorphan to placebo for cough. Two studies demonstrated significantly less coughing with dextromethorphan, compared to placebo. A third study favored dextromethorphan, though the difference was not considered significant. While dextromethorphan may be somewhat helpful for adults with a cough, its effectiveness has not been proved for children.
Narcotics such as codeine are sometimes prescribed for cough but have not been proved effective for coughs caused by the common cold, according to the authors of a February 2007 article in "American Family Physician." However, dextromethorphan and codeine have been shown effective for cough due chronic bronchitis and chronic obstructive pulmonary disease. The prescription cough suppressant benzonatate (Tessalon) suppresses cough by numbing the airways. This medicine is only used for people with serious, long-term lung disease.
Warnings and Precautions
The U.S. Food and Drug Administration advises against giving over-the-counter cough and cold medicines to children younger than age 4. The American Academy of Pediatricians warns that these medicines have no proven benefit and pose a health risk to children younger than 6. Cough medicines are sold with many combinations of ingredients, including acetaminophen (Tylenol). So it's important to examine labels carefully to avoid possible overdose. Cough medications also interact with numerous drugs. Decongestants can raise blood pressure, and antihistamines and cough suppressants can cause drowsiness.
The American Academy of Family Physicians advises seeing a healthcare provider for any cough that lasts more than 8 weeks. Seek immediate medical care if you have difficulty breathing, shortness of breath, cough up blood or develop a high fever.