While sodium is found in most foods, vegetables and fruits are naturally low in the nutrient. If sodium intake is a concern for you, becoming aware of the few vegetables and fruits with higher sodium contents may benefit you when it comes to planning your diet. Be aware that canned or dried vegetables and fruits can contain high levels of sodium due to added preservatives such as salt.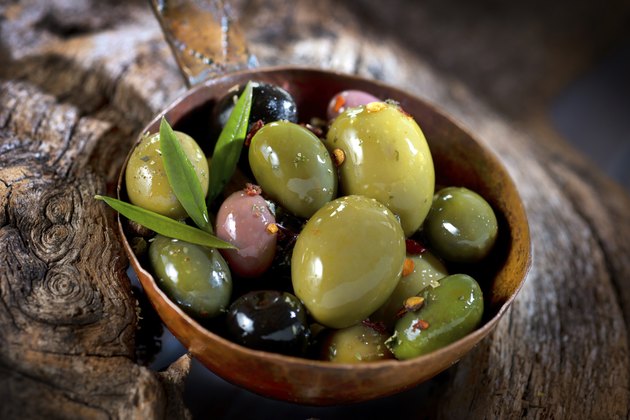 Canned and Pickled Olives
Olives found in the grocery store or restaurant are most often canned. Ripe canned olives contain 24 milligrams of sodium for one small olive. A super colossal sized canned olive contains as much as 110 milligrams, so a serving containing five means you're consuming 550 milligrams of sodium. If you want a lower-sodium olive, look for cans or jars that contain the phrase "low sodium" on the label.
Fruits and Fruit Products
According to the U.S. Department of Agriculture, a mammy apple contains the most sodium per serving. One of these large round tropical fruits contains 127 milligrams of sodium. Guavas and passion fruit are the only other fruits in the raw form that contain 50 milligrams of sodium or more per serving. Fruit products -- such as applesauce, dried apples, cranberry sauce, cranberry-orange relish and apple juice -- contain more than 50 milligrams of sodium, the USDA notes.
Vegetables
A cardoon, which is classified as a leafy vegetable, contains the highest sodium content of any raw vegetable, according to the USDA, with 303 milligrams in 1 cup of shredded cardoon. Raw celeriac, wax gourd, artichokes, beets, carrots, seaweed, turnips, beet greens, celery and chard contain 75 milligrams of sodium or more per serving. When cooked without salt, sweet potatoes, spinach and collards contain 75 milligrams of sodium or more per serving.
Legumes
The USDA says legumes and beans can be considered part of the vegetable food group. The Bean Institute has found that beans are most often consumed canned in America, and canned foods often contain more sodium. Canned navy beans have the highest sodium content per 1-cup serving, with 1,174 milligrams. Look for bean products labeled "low sodium" if you're watching your intake.