Nasal congestion can be unpleasant, often sending people rushing to the medicine aisle of their local drugstore to find relief. While Mucinex and Sudafed products both help to relieve nasal congestion, there are important distinctions between the two medications. If you aren't sure which medication would be most appropriate for your situation, call your doctor for advice.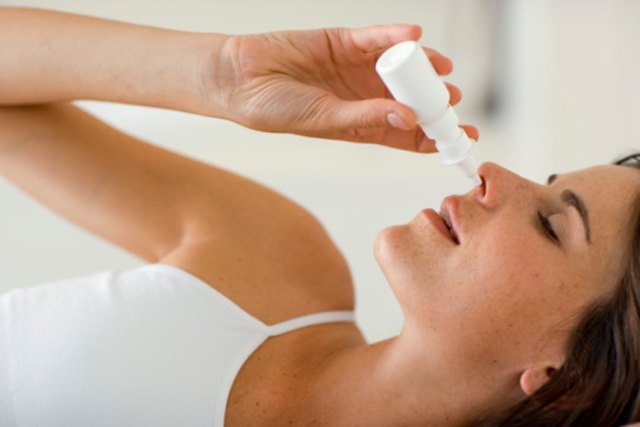 Active Ingredients
While ingredients vary depending upon the specific product, the active ingredients in a Mucinex product are often different than the active ingredients in a Sudafed product. Many Mucinex products contain the active ingredient guaifensin, an expectorant. Sudafed products sold behind a pharmacy counter generally contain the active ingredient pseudoephedrine, while Sudafed products sold in the cold medicine aisle of the drugstore contain the active ingredient phenylephrine. Both pseudoephedrine and phenyephrine are nasal decongestants.
Function
Although both Mucinex and Sudafed work to relieve sinus congestion, the two medications work in different ways. Mucinex works by loosening and thinning the mucus that is causing the congestion. Sudafed works by narrowing the blood vessels in the nasal passages.
Side Effects
The potential side effects of a Mucinex or Sudafed product also vary depending upon the specific product. Mucinex products containing guaifensin may cause headaches, nausea and vomiting. Sudafed products containing pseudoephedrine may cause restlessness, nausea, vomiting, headaches or weakness. It may also pose a risk of more serious side effects including an irregular or fast heartbeat, difficulty breathing, stomach pain, difficulty sleeping, dizziness and nervousness. Sudafed products containing phenylephrine may also cause serious side effects, including nervousness, dizziness or sleeplessness. You should discontinue the use of products if any of these serious side effects occur, warns PubMed Health.