Tzatziki sauce gets its name from the Greeks and its tangy, fresh flavor from yogurt, cucumbers, lemon and other ingredients. In general, tzatziki sauce is a healthy condiment, but some recipes are more nutritious than others.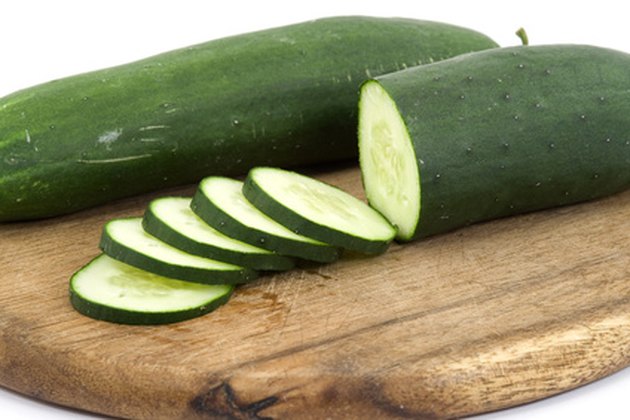 Ingredients
CalorieKing.com offers a basic low-fat tzatziki sauce recipe incorporating low-fat plain Greek yogurt, cucumber, lemon juice, olive oil, garlic and fresh mint. Other recipes are a little richer, calling for full-fat plain yogurt and sour cream. Different recipes include other ingredients too, using both lemon juice and lemon zest or both mint and dill.
Calories, Fat and Cholesterol
A 2-tbsp. serving of CalorieKing's basic tzatziki recipe contains 50 calories and 1.7 g of total fat, of which 0.2 g is saturated fat. The tzatziki sauce has no cholesterol. If you're watching your intake of calories, fat or cholesterol, this tzatziki sauce is a good condiment to choose.
Carbohydrates, Fiber and Protein
Every 2 tbsp. of CalorieKing's low-fat tzatziki sauce contain 3.2 g of carbohydrate, of which 0.2 g is dietary fiber and 2.6 g are sugars. The tzatziki sauce also has 5.2 g of protein per serving.
Sodium and Calcium
Certain tzatziki sauce recipes call for more sodium, but CalorieKing's basic low-fat recipe contains only 22 mg per serving. The tzatziki sauce also contributes to your daily intake of calcium, with 44 mg per serving.
Serving Suggestions
Tzatziki sauce is a traditional accompaniment to souvlaki, gyro and other dishes. Its tangy, creamy flavor complements grilled meat. It may also be served on its own, as a salad or used as a dip for raw vegetables. The Culinary Institute of America's website recommended serving tzatziki sauce with homemade zucchini pancakes.