Corn's natural sweetness makes corn taste like it's high in calories, but you can easily fit an ear of corn into your daily diet. For maximum sweetness, buy the freshest corn possible. The natural sugars begin to turn into starch as soon as the corn is picked, which affects the taste but not the calories. Avoid corn that has black silk or kernels that look indented. Those are sure signs of an ear that has begun to dry out.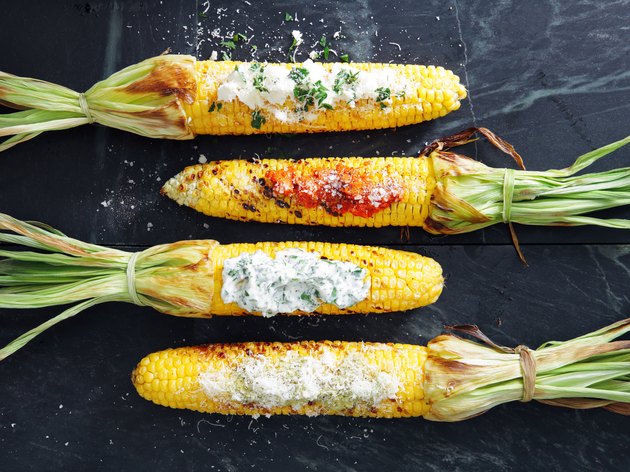 Do you want to lose weight or be healthier? Join MyPlate Calorie Counter and get access to free meal plans, healthy recipes and at-home workouts. You'll also get daily calorie and macro goals for your fitness journey. Don't miss your chance for amazing results. Sign up today!
Every Kernel Counts
Eating an ear of corn is usually an all-or-none endeavor: Most people with a full cob of corn on their plate eat the whole thing, which means it's hard to control your serving size. If you're following a strict diet, every calorie counts. The way to control the portion is to choose a small ear of corn. Since a small ear of corn only has 85 calories, eating an entire cob won't ruin your diet. A small ear of boiled, yellow corn is about 5.5 to 6.5 inches long. A medium-sized ear of yellow corn goes up to 99 calories, while a large ear has 113 calories.
Starch Is Not So Sinful
Sweet corn belongs to the starchy vegetables group. The "Dietary Guidelines for Americans 2010" recommends consuming 5 cups of starchy vegetables weekly, based on a 2,000 calorie-a-day diet. Chances are you won't get all of your starchy vegetables from corn, but just so you know, 6 or 7 ears of corn are about equal to the weekly recommendation. One small ear of corn has about 18 grams of carbs, which are mostly complex starches, and provide about 75 of the 85 calories. Fiber doesn't contribute to the calorie count, but you can count on getting 2 grams of fiber from a small ear of corn.
Low-Fat Zone
Even though sweet corn is low in fat, it's one of the few vegetables that does not qualify as a fat-free food because it has more than 0.5 grams of fat per serving. One small ear of sweet yellow corn has 1.3 grams of total fat, which doesn't destroy your diet because it's only about 12 calories from fat. Most of the fat in an ear of corn is in the form of unsaturated fats that lower cholesterol. You should consume 20 to 35 percent of your total daily calories from fats, according to the Institute of Medicine.
Beware of the Butter
The calorie downfall of an otherwise healthy ear of corn is added butter. One pat of butter, which is about 1 teaspoon, contains 36 calories and adds 4 grams of fat. Even worse, most of the fat comes in the form of saturated fat, which raises cholesterol. If you go with reduced-fat butter, you'll only add 25 calories and 3 grams of fat. To lose more calories, choose fat-free butter, a butter-flavored spray or experiment with other non-butter options. Instead of butter, try seasoning your corn with your favorite vinaigrette, pesto or a mixture of avocado and lime juice.