Choosing a safe testosterone boost can be difficult because safety is often a relative term, depending on the user. For example, individuals younger than 30 years of age still have optimal testosterone levels. Boosting testosterone may benefit younger users when it comes to muscle building and fat burning. However, testosterone boosters are not for everyone and may lead to some side effects. Always consult with your doctor before using any testosterone booster.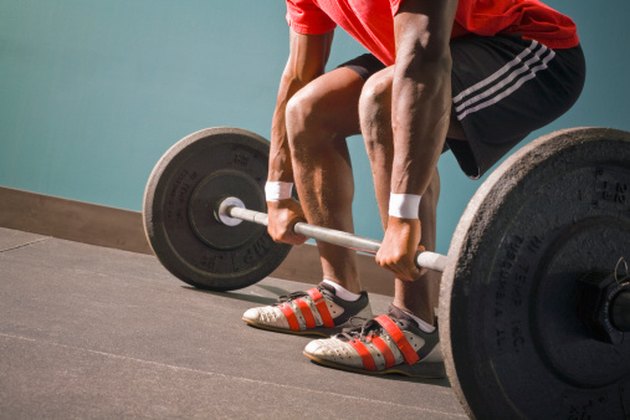 Definition
Testosterone is the male sex hormone that makes men more muscular and aggressive. Its functions in the body are related to growth, muscle building, fat burning, libido, heart health and cognition, according to Paul D. Navar, MD, author of "Optimizing Testosterone in Aging Men." Testosterone boosters may enable the body to produce higher levels of the hormone by acting as precursors, creating more free testosterone, decreasing estrogen and/or triggering the body to release LH or lutenizing hormone.
Types
Some herbal testosterone boosters work by increasing the pituitary gland's producing of LH, a messenger hormone that signals the testes to produce testosterone. Examples include tribulus terrestris, longjack and fenugreek, according to Jim Stoppani PhD, author of "Supplements 101." Other herbs may act to free bound testosterone in the body, effectively creating more free testosterone. For example, the coleus forskohlii extract known as forskolin creates more free testosterone, according to the book "Natural Anabolics." Supplemental forms of the hormone DHEA (dehydroepiandrosterone) act as a precursor to testosterone.
Benefits
For fitness enthusiasts, higher testosterone levels promote muscle building, fat burning and higher energy levels. Testosterone defends the body against age-related muscle loss, which can decrease metabolic function, causing you to gain body fat. On a general health note, boosting testosterone may protect against cardiovascular disease, obesity and diabetes. Low testosterone levels have been associated with increased risk of death. Maintaining high levels improves mood, cognitive function and libido.
Considerations
When choosing a testosterone booster, you must consider your age, health status and goals. Have your doctor check your hormone levels to ensure that testosterone boosters are right for you. Boosting testosterone has an impact on your entire hormonal environment and may increase your body's production of the hormone derivative known as DHT or dihydrotestosterone. For those who have or are at risk for prostate disease, this effect may prove costly to your heath. Speak with your doctor about taking herbal supplements first, before taking hormone supplements such as DHEA, which can cause side effects.
Expert Insight
The author of "Natural Anabolics" recommends taking 400 mg of longjack daily upon waking. In addition, you may take 250 mg of coleus forskohlii, containing 10 percent forskolin, up to two times daily. Stoppani suggests 250 to 750 mg of tribulus terrestris twice per day and 500 to 2,000 mg of fenugreek extract per day. In addition, 2,000 mg of aastaxanthin and saw palmetto lipid extract and 50 to 500 mg of damiana may further support higher testosterone levels, according to "Hormone Helpers" by Jose Antonio PhD. Consult with your physician before taking any supplements.