The human body needs sodium and potassium to remain healthy. These two electrolytes have many functions including maintaining nerve and muscle function. A decrease in blood sodium concentration, also called hyponatremia, can cause seizures, while low potassium levels in the bloodstream, or hypokalemia, can lead to heart problems. Hypokalemia and hyponatremia have many causes.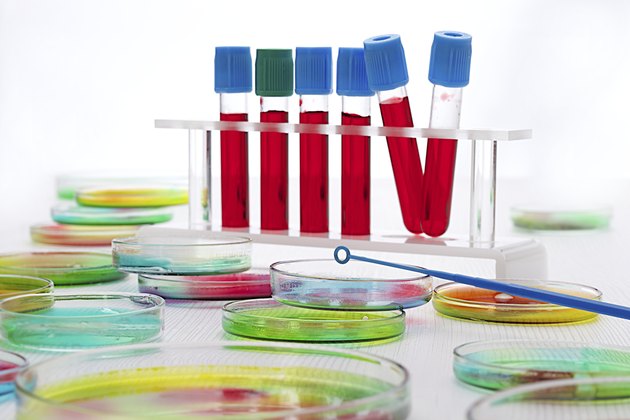 Antidiuretic Hormone Secretion
The hypothalamus produces antidiuretic hormone. It is then transported to the pituitary gland for storage and secretion. Antidiuretic hormone stimulates the kidneys to retain water. In syndrome of inappropriate antidiuretic hormone secretion, the body is exposed to high levels of antidiuretic hormone. In response, the kidneys reabsorb more water. This leads to an increase in the amount of water in the body and hyponatremia. Medscape explains that in this type of hyponatremia, the body does not lose or lack sodium. The excess water in the body, however, dilutes the amount of sodium in the body and reduces its concentration.
Aldosterone Imbalance
Aldosterone is a hormone that regulates blood levels of sodium and potassium. It is produced by the adrenal glands and under normal circumstances, it signals the kidneys to retain sodium and excrete potassium. In a disease called hyperaldosteronism, the adrenal glands produce abnormally high amounts of aldosterone. This stimulates the kidneys to retain sodium and excrete more potassium. Consequently, potassium levels fall and hypokalemia occurs.
Addison's disease is a hormonal disease that causes low sodium levels. In this disorder, aldosterone levels are low. Therefore, the kidneys retain more potassium and excrete more sodium. This leads to a drop in sodium levels in the body and hyponatremia.
Thyroid Dysfunction
Hyperthyroidism is a disorder characterized by higher than normal levels of thyroid hormone. People who have this disease can also suffer from a condition called thyrotoxic periodic paralysis. Most of the body's potassium content is found within the cells and not in the bloodstream. According the Merck Manuals Online Medical Library, movement of potassium in the bloodstream to the cells can cause hypokalemia.
People who have thyrotoxic periodic paralysis experience periods of paralysis during which their potassium levels drop. Medline Plus notes that these episodes happen after symptoms of hyperthyroidism show up.