While protein may be filling and can help make it easier to lose weight, this doesn't mean that it's a good idea to eat only protein when trying to slim down quickly. Not only would this be difficult to do, it would also be unhealthy. You need a mix of protein, carbohydrates and fat for good health, and some types of carbohydrates and fats are actually helpful for weight loss. The trick is to choose the right types and consume them in the proper amounts.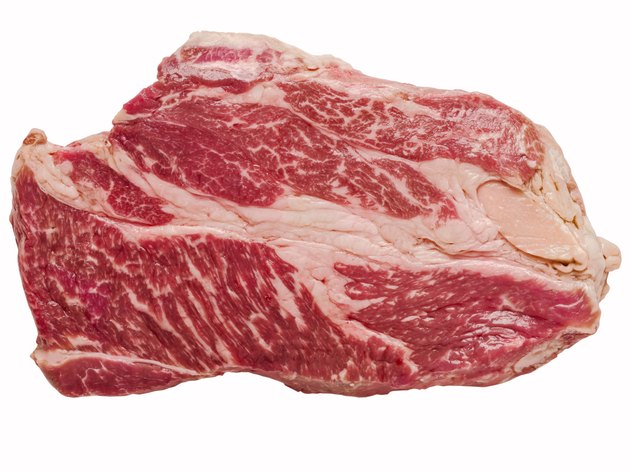 Protein and Weight Loss
Protein helps to increase satiety, maintain muscle and slightly increase metabolism while you're trying to lose weight. (ref 1) While more than the standard amount of protein typically recommended, including at least 25 to 30 grams of protein in each meal and get between 0.5 to 0.7 grams of protein per kilogram of body weight per day will help you achieve these beneficial effects, recommends a study published in The American Journal of Clinical Nutrition in June 2015. A diet with more protein than this may increase results, but it will be harder to stick with until you reach your weight-loss goals. (ref 2 conclusion)
Protein may be particularly beneficial for getting rid of stubborn abdominal fat during weight loss. A study published in Nutrition, Metabolism & Cardiovascular Diseases in 2009 found that high protein diets resulted in greater total fat and abdominal fat losses than diets with a more standard amount of protein, helping people to improve their body composition as they lose weight. (res 2)
Not getting enough protein may make you more likely to lose muscle instead of fat. A study published in the Journal of the American Dietetic Association in 2013 found that low protein consumption while on a weight-loss diet is associated with increased loss of muscle and other lean tissue. (res 3)
Recommended Protein Intake
Women need at least 46 grams of protein each day and men need at least 56 grams per day. Between 10 and 35 percent of calories per day should come from protein. (ref 5 p4) Getting more than 35 percent of calories from protein can be dangerous and might lead to protein toxicity symptoms, including diarrhea, nausea and excessive levels of ammonia, insulin and amino acids, which could lead to death. A study published in the International Journal of Sports Nutrition and Exercise Metabolism in 2006 recommends getting not more than 25 percent of calories from protein. (ref 3)
Vary the types of protein you eat, and get most of your protein from lean sources, such as skinless poultry, seafood, legumes, eggs and the leanest cuts of beef and pork, which include those with "loin" or "round" in the name. (ref 10)
Importance of Dietary Fat
The polyunsaturated omega-3 and omega-6 fats are essential, meaning your body needs them but can't make them itself. You need to get these through your diet for proper brain function and keeping your skin healthy. (ref 7) About 20 to 35 percent of your daily calories should come from fat, with 5 to 10 percent of calories in the form of omega-6 fats and 0.6 to 1.2 percent of calories in the form of omega-3 fats. (ref 5 p2-3) The rest of the fat in your diet should come mainly from the healthy monounsaturated fats, with not more than 10 percent coming from saturated fats. A diet rich in monounsaturated fats, such as those found in nuts, avocados and olive oil, may help limit fat deposits in your abdominal area compared to diets high in saturated fat, according to a study published in Diabetes Care in 2007. (ref 6 abstract)
Importance of Carbohydrates
People should consume at least 130 grams of carbohydrates per day for optimal health, and the U.S. Department of Agriculture recommends getting between 45 and 65 percent of your calories in the form of carbohydrates. Fiber is important for limiting the risk of constipation and also helps you feel full, so aim for the recommended intake, which is 25 grams per day for women and 38 grams per day for men. (ref 5 p1) According to a review article published in Nutrition in 2005, dietary fiber may help lower the risk for obesity by increasing satiety and decreasing the number of calories absorbed from foods. (ref 9)
Not getting enough carbohydrates in your diet can cause lack of energy, slowing metabolism, breaking down of muscle and an increased likelihood of muscle aches when you exercise. The quick weight loss that occurs right after you cut down carbs is from water weight lost as your body uses up the glucose stored as glycogen in your muscles. (ref 8) Get most of your carbs in the form of nonstarchy vegetables, fruits and whole grains and limit refined grains, sugary foods and highly processed foods for the best weight loss results.
A Better Diet for Weight Loss
Instead of trying to follow a diet consisting of almost all protein, follow a diet with a low glycemic index that has about 25 percent of calories from protein and 25 to 30 percent of calories from fat. This is the diet recommended by a study published in The New England Journal of Medicine in 2010. It was better for weight loss than diets lower in protein or higher on the glycemic index. (res 1)
The glycemic index estimates how quickly a food will raise blood sugar levels, with those showing a low score being less likely to cause blood sugar spikes. Foods that have a high fiber content, such as nonstarchy vegetables and most fruits, or that are high in protein or fat tend to be lower on the glycemic index, as do foods that are less processed.
Importance of Exercise
According to a study published in The Journal of Nutrition in 2005, dietary protein and exercise have additive effects during a weight loss process, with those who eat plenty of protein and who also participate in cardio five days per week and resistance training two days per week having greater improvements in body composition than those who followed a higher protein diet without exercising. Both groups did, however, experience greater improvements in body composition than those who followed a lower protein diet with or without exercise. (ref 4)