CrossFit is as much of a movement as it is a fitness regimen. Developed by fitness trainer Greg Glassman, the founder and CEO of the company that launched in 2000, CrossFit is a multidisciplinary approach to fitness that focuses on high-intensity workouts based on "functional" movements culled from across numerous disciplines, including weightlifting, gymnastics and running. CrossFit affiliates, or "boxes," are run by independent trainers who must be credentialed by CrossFit.
CrossFit Trainers are certified at four different levels of ascending difficulty and competency. To be eligible for the Certified CrossFit Trainer credential, you must be at least 18 years old and attend training courses that, as of early 2017, cost $1,000 each.
Preparation for Training
Begin by joining a CrossFit gym with an on-ramp program. This will introduce you to CrossFit's specific method of high-intensity training and its three categories of basic movements: the deadlift, press and squat series. These will become important later for passing the written exam of 55 multiple choice questions.
Level 1 Training
Level One Training introduces the student trainer to the basic movements and principles of CrossFit, providing students basic knowledge that allows them to begin training others in the CrossFit regimen. The course includes both classroom instruction and training in small groups. In the classroom, students learn how to conduct their own CrossFit classes, how to maintain effective technique at high intensity and how to adjust instruction for any ability level. There are no prerequisites.
Level 2 Training
Level Two Training goes deeper into the mechanics of movement, teaching attendees to identify faults in movement and communicate them to students. Course leaders demonstrate effective coaching through physical guidance and verbal and visual cues and teach you to design an effective CrossFit program. Level 2 also evaluates your skill as a trainer in group management and assesses your athletic capacity.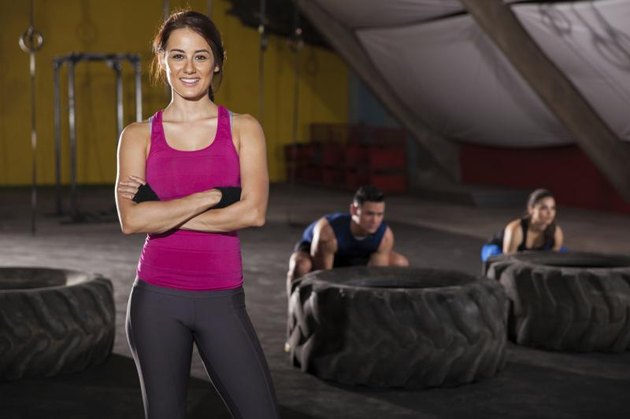 Certified CrossFit Trainer
The third designation makes you a full-fledged CrossFit Trainer. To be eligible, you must fulfill all of the requirements for one of two different paths. The first path: Complete training for both Levels 1 and 2, plus 750 hours of CrossFit coaching for individuals or groups while possessing current certificates for Level 1 or 2 within the past five years. Path 2 requires that you have completed 1,500 hours of active fitness coaching at the professional or college within the past five years using GPP-based training (coaching specific sports doesn't count toward the prerequisite). In addition, you must hold a valid cardiopulmonary resuscitation (CPR) certificate.
Certified CrossFit Coach
The newly added fourth designation of Certified CrossFit Coach is a new credential that grades trainers' aptitude in coaching CrossFit movements in small group settings. Rather than receiving instruction, attendees will have their coaching skills evaluated by senior CrossFit trainers. Those who pass muster will earn the designation​ of Certified CrossFit Level 4 Coach, which is the highest level of achievement recognized by CrossFit. This assessment is intended for veteran trainers with several years of CrossFit coaching under their belts. To be eligible, you must already be a Certified CrossFit Trainer.