A poorly stocked gym bag can wreck even the best of workouts. To ensure you make the most of your time at the gym, we complied a list of workout essentials that every active woman and man should be sure to pack. Whether you're headed to a low-intensity yoga class or a sweat-drenched HIIT session, here's what you should have in your gym bag.
Gym Bag Essentials Everyone Should Pack
Some items are non-negotiable, no matter who you are or what kind of workout you have planned.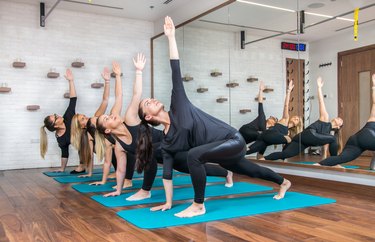 Gym Bag Essentials for Her
Low-Impact Workouts
Restorative yoga, Pilates and other low-intensity workouts generally don't require a ton of items. That said, you'll have a better experience if you make sure to pack a couple of key things.
Layers: "Although the intensity of the workout may be lower, you still want to make sure your body is properly warm," Aguiar says. Be sure to throw a light hoodie, wrap top and even leg warmers (yep, they're back in style!) into your bag. Take them off when you feel warmed up, and then put them back on for brunch afterward.
Face Wipes: When all you need is a quick refresh, face wipes are an easy way to keep your complexion on-point, Aguiar says. She likes to pack Kind to Skin cleansing wipes ($4.46) in her bag.

Medium-Impact Workouts
Once you start increasing your workout intensity, you'll need to put a bit more attention into what you're packing in your bag. Here are your must-haves for medium-impact sessions.
Training Shoes: Having the right shoes is always important, but it's especially critical when you move into medium- and high-impact territory. "You want a sneaker with a thin, flat sole and wide toe box that bends at the toe but not the arch, ensuring proper arch support," says Aguiar. "If you can fold your shoe in half, it's likely not providing your foot with the support it needs."
Towel: You might find it helpful to have a small towel on hand to wipe moisture off your brow (or even the exercise equipment) — especially if you're prone to sweat.

High-Impact Workouts
Intense boxing workouts or HIIT classes call for more thought and preparation. In addition to the medium-impact essentials, here are the items you shouldn't leave home without.
Moisture-Wicking Clothes: For heavy training days, you'll want something more substantial than the clothes you lounge in. Steer clear of cotton and look for workout clothes that feature technical fabrics like polyester, spandex, elastane and nylon. "Nike's Dri-Fit material has great wicking capabilities," Aguiar says. But she warns that you'll want to wash your gear soon after your workout to avoid retention of sweaty smells.
Toiletries: A cleansing wipe may not be enough to make you feel fresh after an intense workout or run. So Aguiar recommends keeping a well-stocked dopp kit in your bag that includes minis of your daily skincare products (like this duo from Drunk Elephant, $23), along with extra tampons, cotton swabs, hair ties and bandages. Add shampoo and body wash minis, anti-chafe balm, a comb or brush, deodorant and any essential cosmetics, and you should be set!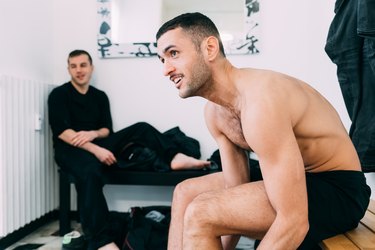 Gym Bag Essentials for Him
Low-Impact Workouts
Even if you're not working up a sweat, you'll still want to pack a few essentials for low-intensity sessions.
Compression Pants: "You want something that's going to keep you warm during the duration of the workout, since you won't be getting your body warm," says Noam Tamir, C.S.C.S., owner of TS Fitness in New York City. He likes to wear compression pants, which are more fitted than regular pants, and designed to boost circulation.
Quarter-Zip Top: Tamir also recommends bringing a quarter-zip top that you can easily remove if you start to get warm during your workout.

Medium-Impact Workouts
As your workout intensity moves from low to medium, your need for specific gear increases. Here's what you shouldn't leave home without.
The Right Shoes: Whether you're doing a strength or cardio workout, you'll want to make sure you have appropriate training shoes. "If you're doing a more cardio-based workout, have sneakers that are geared toward running," Tamir says. If your workout involves more strength training, look for shoes with more stability.
Towel: Pack a small towel you can use to wipe away sweat. And even if you're not sweating, you might want to lay it on the equipment in case the previous user didn't wipe the machine down.

High-Impact Workouts
Once you move into intense workout territory, you'll want to pack a few more items to make your session more enjoyable.
Quick-Drying Clothes: Sweaty sessions call for tops and bottoms that are breathable and quick-drying. "I'll usually wear shorts with an inner lining and a short-sleeved shirt that's fitted to keep everything tight to my body," Tamir says. Bonus: Choose gear that also has anti-odor technology.
Toiletries: Chances are you'll want to scrub down after an intense workout. Or at the very least, freshen up your deodorant. Stock your kit with mini versions of your usual essentials, which could include: face and body wash, shampoo, razor, shaving cream, deodorant and moisturizing lotion.